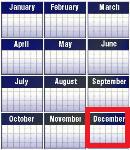 Welcome to the first month of winter, which actually starts on the 21st of this month. I hope that everyone had a great Thanksgiving and are looking forward to Christmas, New Years or whichever holiday(s) you observe. Seeing everyone is basically scrambling to get ready for all the office Christmas parties, Christmas Eve dinner, Christmas Day, New Year's parties, etc… there is not much time left for yourself much less your home.
As an early Christmas present this month's maintenance list is super short and we have released a few articles to hopefully help you make it through this period, while leaving you some "me" time. Happy Holidays to all
Maintenance Checklist
Gardening & Grounds Checklist
For all the plants and herbs brought inside, make sure you keep them watered
Watch out for frost & hard freeze warnings – make sure you cover any plants, shrubs, or crops that may be damaged & cut back any damaged ones
Continue raking up those leaves and place them in your compost pile
Other items to consider
Time to hang those Christmas decorations up. Article: Ten Tips to quickly and safely install Christmas Lights
If you have guests coming over, or are tired of tripping over everything – make sure to de-clutter your house
Make sure you review our Master Holiday Checklist to help get those gifts and cards out on time
Charitable Donations – the end of the year is fast approaching, so if you want to report them on this year's taxes you should consider getting them in as early as possible (IRS Rules on Charitable Deductions)
Your pets – Your pets will be spending more time indoors, so you might want to consider getting them groomed and their nails trimmed. You might also want to review the section on Pets in the Thanksgiving article for some other helpful tips and tricks that apply.
For all the hardworking women out there, how about treating them to @Home Spa Day or sending them to a spa? The @Home Spa Day is pretty simple – get them some;

nice fluffy towels and a great robe
some scented candles, essential oils, and lotions
a facial masque
some soothing music playing in the background
take the kids out a movie or send them to a babysitter for a day
At the end of the day take her to her favorite restaurant and let her enjoy having a nice relaxing day off
As always, please stay safe; if you feel uncomfortable, do not understand how to complete a task, etc… please call in a professional. Merry Christmas  from all of us here at The HTRC.