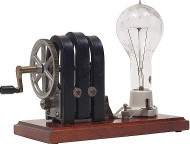 Off the Grid, Where the Living is Good (so far) by Craig Leisher "Three weeks ago, my wife and I moved with our three boys, two cats, five bikes and canoe from the New Jersey suburbs to a cabin in the Maine woods. We'll be here for a year, and from time to time I'll be updating you on our experiment in living in tune with our surroundings and off the grid. We have no hot water, no microwave, no washing machine, no coffee maker and only enough solar electricity to power two laptops and a cellphone…"
21st Century Living Requirements
Seriously two laptops, satellite internet service, a cell phone, but no coffee – wow.  It is amazing how the times have changed and what is now deemed necessary or even a human right to have. For example, growing up in the area I did, watching movies like Mountain Family Robinson, going camping, etc… it was great to dream about living in a cabin in the middle of nowhere as a kid and even later in life. Shoot it seemed like all you needed back then was a few lanterns, a wood burning stove, and a working battery for the CB radio to call for supplies & help if needed.
Now unless you head up the Nature Conservatory or are trying to channel the spirit of Henry David Thoreau, not too many people will go for no coffee, hot water, or a washing machine (much less have their wives allow it). So let's be practical, and admit it – we want all the normal comforts of a 21st century home (AC, Hot Water, Laundry Room), a real house (not a yurt or a cabin you can't turn around in hardly), along with the internet, maybe some TV (satellite of course), and a cell phone. So what does it take to go off the grid in today's world, while still remaining connected? Might it really take a village?
The first question – can or should I go off the grid?
Realistically, before you just go – I am going for it, is to make sure that not only it is doable, but worth the effort. Why do you want to go off the grid, what are your goals, does your family support the idea? For a really good primer on some of the challenges & thoughts on should or shouldn't I, I highly recommend you check out the articles that John D. Poole of Birmingham Point did on the subject. Staying On-Grid, a Hybrid Approach on Sustainability.
On the money front, for many individuals that live in the city, or in close proximity to the utilities, the initial costs can be hard to stomach. On the flip side, for many people building a new house where the fees or money required to run utilities to it starts climbing north of $10,000 or so, going off the grid / not connecting to it, may start looking a lot more attractive.
Needless to say, as this series is about going off the grid, we are going with the answer being yes, and will cover many of the different options available, and the maintenance required on those items. Even if going off the grid isn't an option, many of the items we will cover might be a help to increase the comfort in your home, reduce your utilities, reduce your waste, or just be able to say – I am doing my part, how about you?
Coming Up:
In the next few articles, I hope you will join in the conversation as we go through the different options for power, water, sewage, trash, heating and cooling, which will also include actual building considerations for each part (I promise no yurts here). As for the food & farming part, well you definitely should check out John's articles above, as I prefer an actual supermarket for my foraging, hunting & gathering needs.