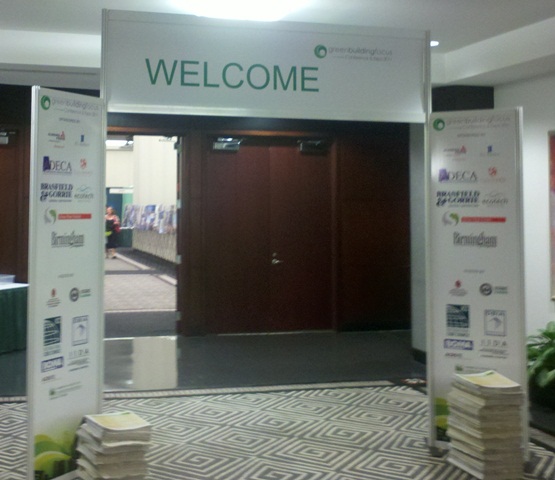 This last Thursday & Friday I spent in Birmingham for the 3rd annual Green Building Focus Conference. Unlike last years which was 4 days long and huge, this one was a more scaled down affair which was a lot more personable and left my feeling recharged instead of glad to finally off my feet after 4 days. One other interesting aspect is they held an optional 1 day mini-seminar that one could attend earlier in Mobile, Atlanta, Huntsville, or Montgomery.
The theme of this year was focused on the rebuilding effort under way in Alabama and many other locations (Vermont, Arkansas, etc…) and was aptly titled "Rebuilding Sustainable Communities." While I started out trying to tweet the conference, I ran into battery issues & couldn't type fast enough, so out cam the trusty pen & paper.
Welcome Address: Jim Byard, Jr. (Tweets only)
Feature | BlockTweTStorm recovery leaves us a once in a lifetime chance to get it right – energy, air quality, et al…
Governor's task to all departments – I want a salary // he took no salary until employment is back
Keynote address: John Picard (Tweets & notes)
The worst thing about green is that we labeled it green &/or sustainable
While I am focused on energy, water is the future
Walgreens adding solar, geo thermal so in case of tornado / hurricane / etc… they will still be open & haven
No folks, it is not Jean-Luc Picard of Star Fleet, though some items he consults on sure rank up there. The 1st green house & his history was hoot, the funniest part was him thinking that if a few gel packs were good (for capturing & holding moisture in the soil), adding more would be better – after the first rain storm he started describing his walk out to his car through 6" of Jello, and the eco-bio paint that had completely washed off his walls.
As I understand it his presentation & many others will be available online & if you are interested I encourage you to check them out as his covered a lot of the past, present & future. If I had to say the two main points he stressed is work on keeping your corner of the world clean, and in closing try waking up and saying – I am a leader, it is amazing what you can accomplish when you act & believe in yourself.
The Net-Zero Built Environment: Dr. Charles Kibert (tweets & notes)
Feature | BlockNet Zero Build Environment – doesn't always mean energy – it also includes water, materials, waste
You can't get to net zero without good passive design – interesting point, overseas pushes for net zero to include source power (unlike US that generally pushes for "used" power)
A sustainable built environment needs targets, which require a fundamental rethinking of how we build. For example in order to keep solar PV only on a roof, you generally have to use less than 100 KWH per square meter. 300 KWH/m² was pretty standard in the 90's, while today most average around 200, while the better ones are below 100. While he listed about 10 examples of Net Zero locations, the two that stuck out for me was Zion National Park @ 79 & the NREL with a 66. The most interesting part about the NREL building is that those numbers are for a 4 story building which is unbelievably good & breaks through the line of logic that says you can only achieve those types of numbers for single or double story buildings.
Lunch:
A special shout out to Culinard Institute for providing this year's lunch – you did a great job & it was excellent. Hmmm, I am sensing Southface has some competition for the best meal's…
Lunch Keynote:
Marc Stoiber
Well I don't even know that I need to write about it, as he basically wrote down all the key points in his blog article. I do love his last point – define your brand or be branded by others, which applies not only to cities, but business, and individuals. I would recommend you check out the article though as it makes some great points for not only cities, but anyone else involved in the business. As another quick side note – major props for being able to keep everyone awake & interested after lunch.
As the VP of National Policy for USGBC was speaking, I expected to hear more about new policies that might impact us, and ones that bear watching but the only item really mentioned is that energy disclosure is gaining traction. He did seem interested in the new jobs act & did a breakdown on how that would impact Alabama. (50B for Infrastructure – 512M slated for Alabama – 6,700 jobs /// 25B for Schools – 309M – 5100 /// 15B for Project Rebuild – 22M)
Tech. of the Electronic Vehicle & Charging Station:
Albert Kurtz
I have to admit, it was nice having Alabama Power right outside of this seminar as they had both the Tesla and Volt on display for one to look at vehicles that were discussed. Needless to say as Mr. Kurtz's company specializes in recharging stations they are pro-EV & claim it will help stop Climate Change. Beyond that, this was a great look into the current technologies.
Coda

– ALL Electric – 100 Mile Range – First Chinese car makes its US debut – 40% parts & labor US
Nissan Leaf – ALL Electric – 100 Mile Range – Delayed due to Tsunami
Tesla Roadster – ALL Electric – 245 Mile Range – 0 to 60 in 3.7 seconds – 3000# car, over 900# is just the batteries – 40% owned by Toyota
Chevy Volt – Hybrid – 35 miles then a generator kicks in – just started shipping
Ford Focus – Hybrid – reliable specs not available
Battery Life is 7 to 10 years (depending on use) and depending on the charger it can take anywhere from 30 minutes to 10+ hours to fully charge.
Level 1 charger – Standardized Plug to car – 110 style from a regular plug on up to 220 style on a 40 amp circuit – costs around .20¢ an hour to charge / top off battery (110 @ home)
Level 2 charger – Standardized Plug to car – 220 style @ 70 amps – most cars are spec'd for full charges using this style which ranges from 3 to 8 hours @ .75¢ an hour
Level 3 charger – NOT standardized yet – 3 Phase 125 amp quick charge station – 80% charge in 20 minutes – cost around $6 an hour
An interesting point on companies selling use to chargers is that one can't sell the electricity; instead they have to word it as selling access to it / parking fee. The Praxis system has a $230 listing fee for sellers with a 7.5% transaction fee – average consumer cost for those that charge is $1.25 an hour (Level 2)
For a keynote entitled Exploring Sustainability: Lessons from Living in Space, you might think they would spend more than a minute describing items related to space – i.e. we recycle our pee. While the pictures of all the changes & disasters were interesting, it didn't live up to the title. I do wish to commend Michael for the work he has done in Nicaragua using materials on hand to create sand filters for drinking water, and adding chimneys to get the cooking smoke out of the house.