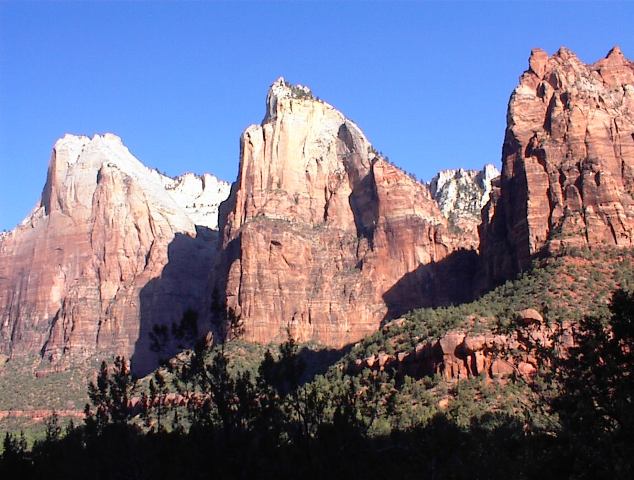 Ahhh, Labor Day – the official end to most everyone's summer vacations and travel & the start of preparing for the upcoming holidays. Wow, wait, where did all the time go? In that vein, this Tuesday's Blog Off happens to be "Where's your slice of heaven?"
.
Everybody it seems, has a place in mind when the topic of get aways comes up. What's the best and most interesting place you've ever been? What's the place that fills your day dreams, even if it's somewhere you've never been? …"
As always, we will have a listing of the participating blogs at the end, or you may also follow the links above to see whom else has joined in the fray. I can honestly say I am looking forward to seeing some of the other bloggers ultimate hideaways as I am always looking for great new spots to go on vacation. In some cases, it is simply nice to be able to take a virtual vacation for a few minutes to simply recharge the batteries, take a break from reality.
Seriously though, while the question itself is pretty simple, talk about a loaded question. As an avid cyclist, should I talk about how I would love to travel across Europe & see the Giro de Italia, the Tour de France, the Vuelta a España, or numerous other one-day classics? While we are there, wouldn't it be great to see all those castles and the associated history that goes along with them? Maybe I should stay a little closer to home – how about all the National Parks, Forests, Recreation Areas & Monuments that I haven't seen and still want to? Well I guess we will have to scratch the daydream part of the question, because there is not just one place I would love to go.
Truth be told, the only difficult part of this article is putting the words together, as I already have getaway spot locked in and have visited there numerous times. Well they say a picture is worth a thousand words, so maybe we will let the pictures do the talking…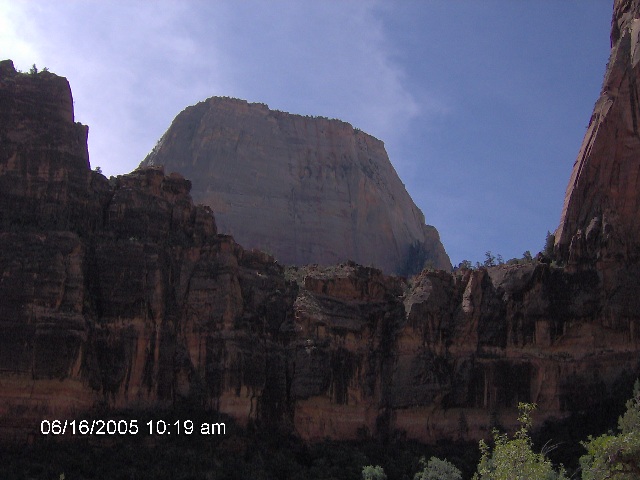 The Great White Throne – hmmm that ties into heaven somehow…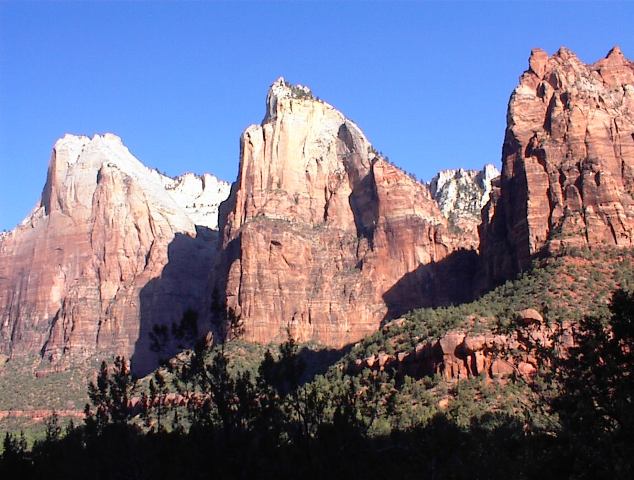 The Three Patriarchs: Abraham, Issac, and Jacob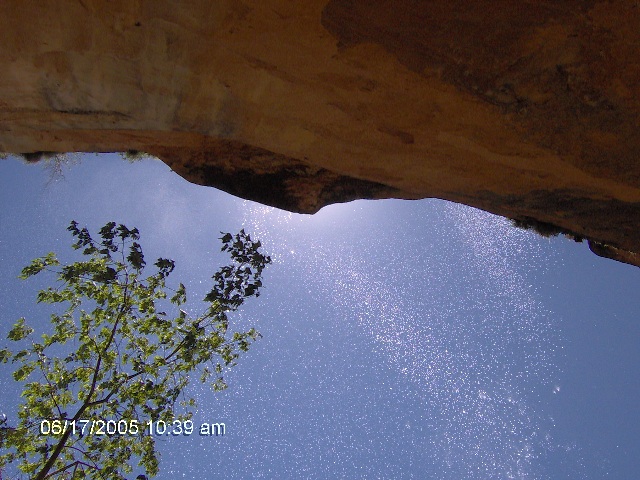 Looking up from one of the 3 Emerald Pools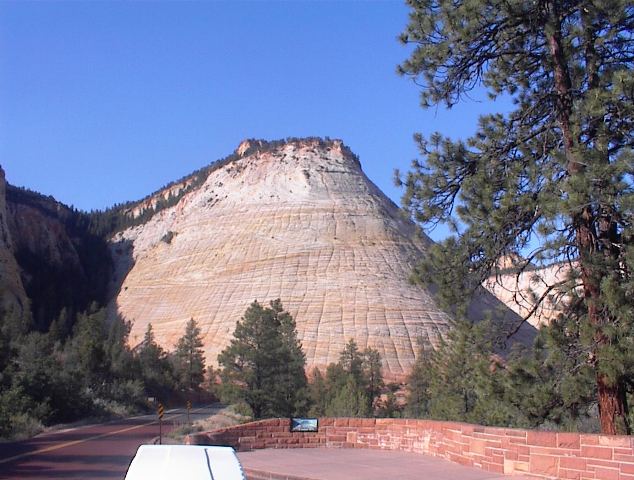 Game of Checker's anyone? Checkerboard Mesa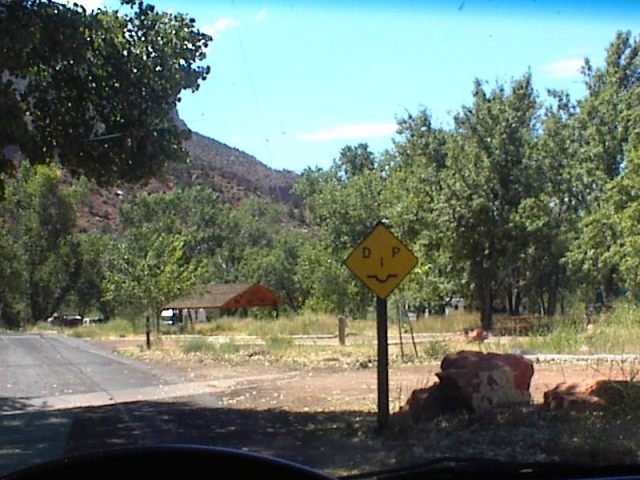 Got to love a place with a sense of humor – unfortunately these signs were taken down sometime in 2001 – 2003 and replaced with the standard "Dip" signs – DIPS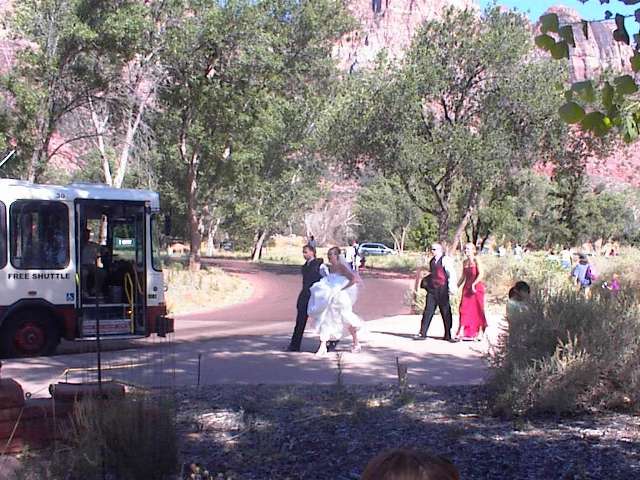 Wow, I guess we are not the only ones that love this place – this couple was on their way to tie the knot. The shuttle bus – well that is an interesting story, on how many people recommend coming here. Back in 1996 there were over 2.4 million visitors, which was making it nearly impossible for people to actually come and enjoy the scenary. Starting in 2000 this was one of the first National Parks to introduce a mandatory shuttle service.
Coming from one that remembers driving up here as a teen & contemplating what I wanted to do with my life (well at least it provided a much needed break) – I must say that they not only did a  great job rolling this out, but it actually adds to the enjoyment one gets visiting. One nice side benefit – as an avid cyclist, one can ride their bike on the road now. This is a picture we snapped of a family doing just that.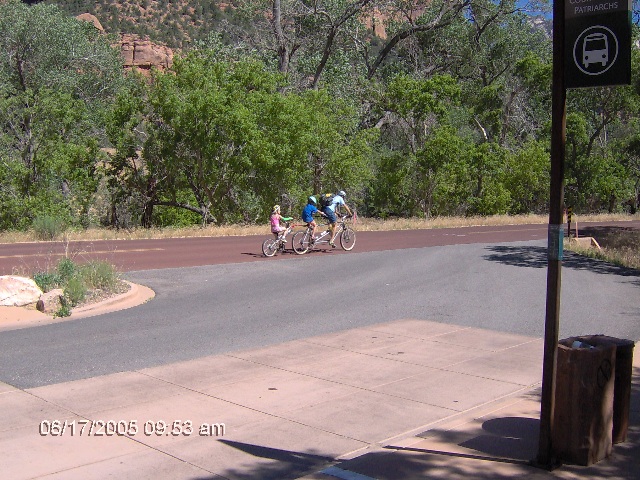 I almost feel like I am still forgetting something… oh yes, an apology for not including some great pictures of the Narrows, numerous other locations, descriptions of all the activities, mentioning the awesome Lodge & the huge tree we played frisbee under, and… oh yeah – the actual name and location… It is Zion National Park which is easily located within a days drive of the Grand Canyon, Las Vegas, Bryce Canyon & even Lake Powell (where I grew up – well sort of). Honestly, if you are ever in the area, you really need to stop in and stay for a few days – I am sure you will fall in love with it, just like my family & I have.

Paul Anater's Kitchen and Residential Design – seeking 
Bob Borson's Life of an Architect – Ireland
Brian Meek's Extremely Average – Photographs
Veronika Miller's Modenus – the world
Becky Shankle's Eco Modernism – nature
Richard Holschuh's Concrete Detail – today
Tamara Dalton's Design Studios – daydream
Jane Frederick's Low Country Architect – backyard 
Rufus Dogg's Dog Walk Blog – a Room
Madame Sunday's Modern Sauce – a fiddle?
Bonnie Harris' Wax Marketing – Living
Cindy Frewen Wuellner's Urbanverse – Space
Kevin Lee Allen's KLAD – towns
Saxon Henry's Roaming by Design – A Poem
Jody Brown's Coffee with an Architect – Prague
Steve Mouzon The Original Green
Denese Botrell Thoughtful Content – India