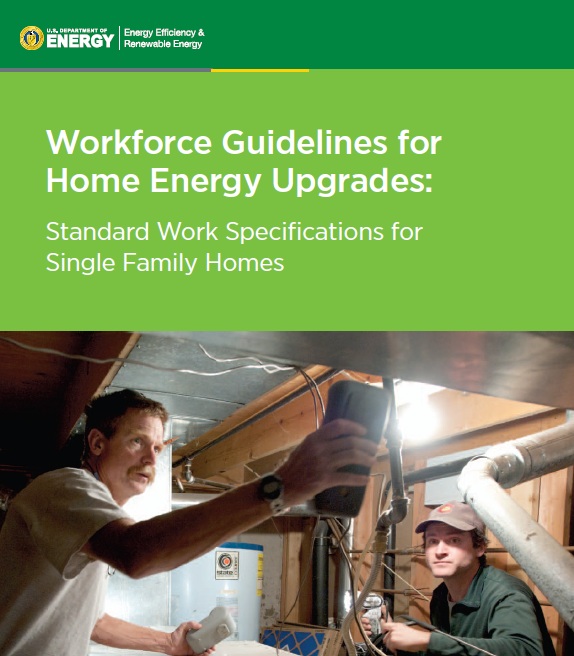 As listed in the first article in this series, many industry experts were asked to perform a technical review of the updated Workforce Guidelines and we are combining both the review & a Clif Notes version of the standards together. Now I must state that while I am knowledgeable about this topic, this is my one weak area & I would love to see a review done by a true professional in this arena (David Butler, Allison Bailes & Chris Laumer-Giddens come to mind right off the bat).
HTRC Series: Combustion Safety, Ventilation, Air Sealing, Heating & Cooling, Insulation, Crawl Space & Basements, Base-Load aka Appliances & Lighting.
Topic: Safe Work Practices (6.1.1 – 6.1.4)
Unlike the others that point directly back to the global standards or include items not directly related to it, they have added in Mercury (6.1.2), Asbestos (6.1.3 – should be in the global) & Protective Clothing (6.1.4 already covered in global, they just add in liquid nitrogen as a reason).
Topic: Forced Air (6.2 – 6.22)
6.2: Load Calculation & Equipment selection – seriously we need 6 pages of mumbo jumbo instead of the requirement that a Manual J & Manual S must be done?
6.3 Ductwork & Termination Design – and here we go again 4 pages that quite easily could have said that a Manual T & Manual D need to be completed. (Great article by Energy Vanguard on exactly what those letters mean – HVAC Design done right – Manual J S T D
6.4: Preparation for New Equipment

6.4.1: Access – now this is funny "A code-compliant walkway and service platform will be installed in attics, if not present" & "Walkway and platform will be above the level of insulation" So based on this, AC units must be installed in attic only? Hmm, why are you only listing OSHA fall protection & not enclosed spaces?
6.4.2: Utility Disconnect; Electricity and fuel will be turned off – not to be picky but to the whole house or just the unit? Seeing this is the prep stage, shouldn't new ones be installed if they are not there or up to code, how about old outdated gas lines?
6.4.3 –I don't see anything wrong with the Refrigerant recovery line
6.4.4 & .5 – seriously we have to mention that the old unit gets removed?

6.5 – Fuel Delivery System for Fuel Oil (nothing about hiring a person licensed to do the work which is required in every state to my knowledge?)
6.6 – Fuel Delivery System for Natural Gas or Propane (see 6.5)
6.7 – Setting of Air Handler (nothing glaring)
6.8 – Duct System (quite honestly most of this was covered in venting, the design portion above but they have added a few interesting wrinkles)

6.8.1 – ducts inside the envelope, insulation and a vapor retarder will be installed to prevent condensation (if its fully inside the envelope & moisture control mentioned earlier is done) it should be impossible for said condensation to form
6.8.2 – ducts outside the envelope, maybe I was sleeping, but what does permeability have to do with preventing condensation, heat gains or losses?
6.8.6 – just tie-bends are to be used, no approved tape, mastics, etc… (interesting)
6.8.15 – good luck with this "Use of system will not be allowed during renovation or construction"
6.8.17: Total system leakage (including air handler) will not exceed 100 CFM at 25 Pascals (for partial duct system replacement or improvement, existing ductwork specification will be applied)
6.8.18: Accessible joints, cracks, seams, holes, and penetrations will be sealed (finally an actual workforce guideline – of course you left off the how, maybe point back to the ventilation guidelines?)

6.9 – Heating & Cooling Controls

6.9.1: Removal of mercury based thermostats – must be removed safely & disposed per EPA… does this go for all houses or just ones where the unit is being replaced?
6.9.2: Removal of Existing Controls; Existing controls will be removed in accordance with EPA lead-safe work rules — Say what & why is OSHA being referenced in the foot notes
6.9.3: Penetrations for control wiring will be sealed with a durable sealant
6.9.4 – .14: Besides mandating that there is a lockout on allowing heat pump backup to kick on, nothing special jumped out

6.10 – Venting System (Exhaust Venting for Combustion products) I think this was all covered in the venting portion
6.11 – Condensate Draining (the only item I see beyond codes is a secondary drain pan must be installed in attics r other areas where any overflow could damage a finished structure)
6.12 – Regional Considerations (only items for Cold & Very Cold Climates)
6.13 – Commissioning of Equipment – Leak Detection

6.13.1 – hmm, interesting – now they require a personal CO Detection device whereas during the CAZ test with old outdated equipment they don't
6.13.2 – you must either test with a gas leak detector & verify it with soap bubbles or do a whole system pressure test
6.13.3 – visual inspection for any fuel-oil leaks
6.13.4 – visual check of the electrical service that wires are appropriately sized, over-current protection & a service disconnect are there

6.14 – Data Plate Verification (basically write down all the info for current & future HVAC techs)
6.15 – Oil Fired commissioning (sorry I have no clue on this section)
6.16 – 6.19: Additional Commissioning tests covering air flow, refrigerant line & sequence of operation – this is why you hire a pro
6.20 – Occupant Education (very nice list to run down with the occupant – interesting that per this section a CO Detector is to be installed)
6.21 – Evaporative Coolers (aka Swamp Coolers) – interesting that they consider this a commissioning & they have you remove calcium (scale) build up & replace the pads – you might want to rethink where this section lies
6.22 – another Special / Regional Considerations (might want to combine the two in this topic)
Topic: Ducts (6.23 – 6.34)
Wow, not only do we cover ducts in the ventilation section, above in the forced air topic, and now once again in it's own topic. The same issues listed before apply still for the most part (as the specs don't match up perfectly) & the use of UL approved Duct Tape seemingly has been replaced across the board by mastic only (even between the boot & the drywall cut-out – good luck on that)The most interesting & newest point is they do allow Spray Foam to be used on the ducts at approved thickness & fire coating (6.34)
Topic: Hydronic Heating (6.35 – 6.41) aka Steam
Sorry folks, this one is so far out of my realm it isn't even funny and like most of the items above, this is not something a typical weatherization company should be doing unless they are licensed &/or trained in this arena. As mentioned in our first article you can get a copy here & we encourage you to review them & let your voice be heard.