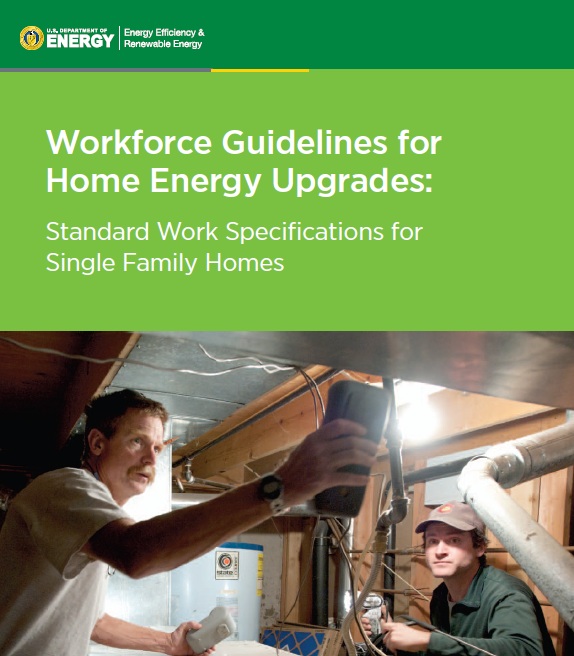 Per an email received from Steve Baden of RESNET & I posted on the Best Practices (Residential) group on Home Energy Pro's…
The U.S. Department of Energy (DOE) developed a draft Workforce Guidelines for Home Energy Upgrades with the goal to foster the growth of a high-quality home energy efficiency industry and a skilled and credentialed workforce.

RESNET and a broad range of contractor associations had serious concerns with the draft and requested a second round of public comments. DOE has agreed to seek industry input on the draft guidelines. RESNET has been invited to part of this review process. This industry review and comment process is open through July 22, 2011. After the review DOE will make changes to the draft guidelines and open a public review in fall 2011.
As many of you know, this is a program we have been following since last August when we became aware of it & our thoughts about it which have not been to pretty. (HTRC Articles: Aug. 2010 Primer and Soft – Announcement, Nov. 2010 the Official Announcement, Dec. 2010 Our Review & Public Comment on program) As many also know that while we wished to do a Clif notes version for each section before, we were unable to. In light of the email above, we are going to try to get that accomplished in the next few articles & focus on the newest version.
HTRC Series: Combustion Safety, Ventilation, Air Sealing, Heating & Cooling, Insulation, Crawl Space & Basements, Base-Load aka Appliances & Lighting.
The Revisions:
This revised draft reflects comments incorporated after an initial public review conducted November 2010 – January 2011. This revised draft was developed by the National Renewable Energy Laboratory for the sole purpose of engaging industry experts to resolve technical issues identified in that review, and it is not for quotation, citation or distribution. After the technical issues have been resolved, a revised draft will be available for a second public review in Fall 2011.
At first glance, it appears that they did listen too many of our comments & have eliminated a lot of duplicated material by creating a global section for safety. Unfortunately they still have plenty of issues – like all fans WILL be orientated to final termination point (Nice but not doable in all cases) & hardly any mention of building codes, or using anyone licensed trades (electricians are covered – not HVAC, plumbing, gas). What I do find amazing is while reviewing the first slides in the soft announcement is that the codes were listed everywhere, but not anymore.
Innovation?
The documentation of guidelines offers program administrators the opportunity to clearly define their role as determining desired outcomes and allowing the market (contractors and manufacturers) to innovate around installation processes, tools, and materials.

The guidelines can help guide and inform the development of new energy upgrade products, such as materials and tools. Programs and energy upgrade companies benefit when there are products that help meet the guidelines faster, easier, and cheaper. To this end, the compilation of guidelines can be viewed as market research for the building products manufacturers to examine what new or improved products are needed in the marketplace.
Seriously? Folks, while you are bound to get some innovation based around this, many ground breaking innovations (that will improve people's health, safety, and comfort) will be lost as you have locked them down the only approved methods & processes that one follows. This is one reason why many code bodies add in language "or per the manufacturer's directions & specifications" as they quite simply can't keep up with all the progress & advancements being made. If you want innovation, you set a standard, and stand back.
SECTION 1: Safe Work Practices pg. 28
Thank you, thank you, thank you… this is one of the best changes they have made, where all the applicable safety items that apply across the board are listed. With that said:
1.1.2 Durable and wrist protecting gloves will be worn that can withstand work activity

While I am a proponent of wearing gloves, this is problematic depending on the task at hand – this needs to be opened up with the "wrist protecting" wording removed

Respirators 1.1.3

The Good – If the risk of airborne contaminants cannot be prevented, proper respiratory protection will be provided and worn (e.g., N-95 or equivalent face mask)
The Bad – When applying low pressure 2-component spray polyurethane foam, air purifying masks with an organic vapor cartridge and P-100 particulate filter will be used
I didn't notice anything about MSDS sheets & instead of just lumping foam in as the only one needing an organic filter you might just combine the two & reference OSHA's applicable program

1.1.5 – If contaminants are present, (e.g., insulation materials) removable protective clothing will be worn

Now that is funny as containments are always present – you might want to reference OSHA's regs for when PPE should be worn

1.1.8 – The least toxic suitable material will be chosen

While I agree in theory, the way that is worded is not always possible, nor may produce the best result & I can see someone spec'ing a no VOC adhesive which may not be proven & fail earlier than one that has some VOC's in it
The other issue would be groups like Fiberglass salesmen saying you can't use foam because…

1.1.12 (Heat & Thermal stress) 911 will be dialed when necessary

Seriously, only in this case – falls, slips, broken bones, chemical burns don't require a call? Do we really need this reminder?
SECTION 2: Home Performance Assessment pg. 33
This print edition of the Workforce Guidelines for Home Energy Upgrades does not contain a section related to Home Energy Audits because industry-led efforts to develop a common energy audit standard were not complete at the time this document went to print.
SECTION 3: Combustion Appliances pg. 34
"Combustion safety is a complicated topic. While everyone may agree on some basic practices, what constitutes "basic" will vary on the perspective. Basic for the Weatherization Assistance Program may relate to what is allowable under the program guidelines. A house that needs more may not be eligible for services. Local building codes may define what is basic, and those vary from place to place. The Environmental Protection Agency (EPA) has its own level of basic practices for combustion safety, while heating, ventilation, and air conditioning (HVAC) professionals have another, and indoor air quality researchers have yet another.
The combustion safety section presented here was developed with the help of HVAC and weatherization professionals and it was reviewed and approved by EPA prior to being released for public comment. During the public comment process, a large volume of valuable comments were received concerning this section. While the comments were valuable, they were not all in agreement, which has prompted more dialogue around this area of the standard work specification. The specifications presented here are safe and applicable in most if not all jurisdictions in the country. But the dialogue will continue to see if general agreement can be reached within the industry.
Amen, unfortunately the "specifications presented here are safe and applicable in most if not all jurisdictions in the country" is not even close to being as they describe.
3.2.1, 3.2.2 CAZ Testing

The worst case test from BPI is split into 2? (Base & Depressurization Test)
Is it safe, and allowed across most jurisdictions – YES

3.2.3 Spillage Test

While this not always applicable, possible, or practical it is safe & allowed

3.2.4 Draft Test

NO, NO, & NO – a draft test should only be performed on certain types, & handled in many jurisdictions by a licensed & trained HVAC technician following the NCI's standards (as I recall they do have the gold standard)

3.2.5 CO Test – measure appliance when at steady state

Again this should only be done by a licensed & trained HVAC technician
One exception might be the oven / range, or by measuring at the top of a natural draft water heater only
Why is there no basic part on looking at the flame when the spillage test is done

3.3.1 Gas Leak Detection – I really have to ask why this is being done after the appliances were already fired up. Along the same lines, where is the personal CO Monitoring at in case there is an issue?
3.4.1 Unvented Space Heaters – I fully understand why they are a no-no & must be removed, but this still leaves a few questions, on why you still allow natural draft appliances, what will replace this heater, etc…
3.5 thru 3.7 – Ok, this was already covered in the CAZ test above & any spec'ing of make-up air needs to be done by a professional HVAC technician following the NCI's standards
3.8 & 3.9 Safety Devices: Smoke detectors / CO Detectors – This needs its own global section as many houses do not have a CAZ / Combustion Appliances in them, but both devices should be located in them
Closing Thoughts:
We hope to have the final 6 sections reviewed during this week & having all our comments into Steve Baden as requested by Monday, July 18, 2011. Now even if you don't belong to RESNET or your group has not sent out an email, I would encourage you to read through them & forward any comments you have to any "industry association" you belong to (NARI, NAHB, NCI, etc…). If all else fails, feel free to leave a comment below & I will add them into our overall comments, as long as they are in on time & applicable.