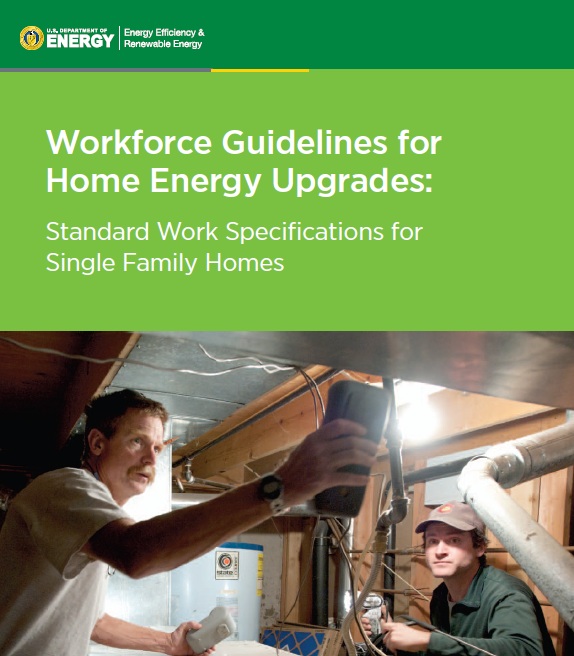 As listed in the first article in this series, many industry experts were asked to perform a technical review of the updated Workforce Guidelines. As we had also mentioned before, while we wanted to create a Clif Notes version when we reviewed the original one, we had some technical issues, so with this new draft, we are combining both the review & a Clif Notes version together.
HTRC Series: Combustion Safety, Ventilation, Air Sealing, Heating & Cooling, Insulation, Crawl Space & Basements, Base-Load aka Appliances & Lighting.
Topic: Safe Work Practices (5.1 – 5.3)
Ok, if you are going to call this Safe Work Practices, you might want to pull Radon (5.3) & Moisture Precautions (5.2) out of here or rename the section appropriately as these two items are specifically covering occupant & building health. 5.2 is sadly lacking & you might just consider punting like you did with 5.3 & utilizing an appropriate checklist from ENERGY STAR® or other program.
Topic: Attic Sealing (5.4 – 5.19)
5.4 – Penetrations & Chases

5.4.1: Pre-inspection, is required for any moisture issues that must be fixed before work (ok, call me crazy but this should have already been listed in the audit & the work should be addressing that)
5.4.2: Backing & Infill "The infill or backing will not bend, sag, or move once installed" & Ensure closure is permanent and supports any load (e.g., wind, insulation)" – it is nice to see the clarification on what the load is, but if you are hoping for no movement you are in trouble as all materials expand & contract
5.4.3: Sealant Selection – kudus, very good on keeping it simple & remembering fire codes
5.4.4: High temperature Applications – FAIL "Only non-combustible sealant will be used in contact with chimneys, vents and flues" how about the insulation, minimum distance required to be maintained, metal flashing required, etc… (Code Books & Manufacturer's Directions need to be referenced)

5.5 – Chase Capping

5.5.1 – ditto's with 5.4.1 (this goes from here on out as they just love repeating themselves)
5.5.2: Standard Chase (interior walls covered with drywall or plaster) Entire opening will be spanned with rigid material TO Reduce opening to what can be sealed with sealant – really so any rigid material can be used, doesn't matter how the attic used, or what codes apply…
5.5.3: Non-Standard Chase (interior walls covered with paneling or wood) Material will be used that can be exposed to the interior of the house TO Prevent a fire hazard – again call me crazy, but I have yet to see a chase open to the inside of the house that someone could see, so what difference does it matter what the finish material is. Also with the way this is worded, you almost make it sound like wood paneling is allowable but that sure doesn't help prevent a fire hazard.
5.5.4 – .6: Support, Joint Seal, & Adjacent Framing look ok (minus the not move comment)

5.6: Pocket Door with the exception of the not moving, I don't see any issues with the Backing & Infill or the Sealant Selection
5.7 – Interior with Sloped Ceiling

5.7.1 – .6: see 5.5 above – the only exception I see is .3 & matching the interior finishes, with that said, there is nothing about insulating this area, installing blocking, etc… to help curb or stop any infiltration or "fire hazard"

5.8 – stairwell to attic with the door at bottom – no ceiling

5.8.2: Option 1 – Bring Stairwell Inside (basically create a ceiling & access panel – nothing really jumps out at me except for the 15# limit maybe tough)
5.8.3: Option 2 – Keep stairwell outside (the thermal envelope by insulating walls, etc…- nothing jumps out at me on this system)
5.8.4 – .6: Dittos with all the .1's – how about a global spec for stuff that doesn't change?

5.9 – Stairwell to Attic with door & finished ceiling at top

5.9.2: Option 1 (try their only listed category with 4 sub options) – bring stairwell inside (uhh it technically already is & your copy & paste is failing you as the first two don't really apply
Technically .4 – .6 got bumped up a notch as they didn't have another option to fill the gap

5.10 – Dropped Ceiling & Soffits (walls open to attic)

5.10.2: Sealing methods, all the methods listed will work, but if left open don't forget you have to fill that entire area up with insulation & then up to finish height

5.11 – Dropped Ceiling & Soffits (new ceiling below existing)

Can we say – copy & paste failure… seriously if you add a new ceiling& the other one is fully intact, why would you open up walls below that to dense pack them unless they are on an outside wall & un-insulated?

5.12 – Dropped Ceiling & Soffits (above closets & tubs) see 5.10
5.13 – Dropped Ceiling & Soffits (Ceiling Leaks Not Repairable – No Air Barrier Above) & the fix is to repair it aka 5.10
5.14 – Dropped Ceiling & Soffits (3-D Walls) I guess we need special glasses to see them? See 5.10
5.15 – Dropped Ceiling & Soffits (with pot / recessed lights or boxed lights aka troffers)

5.15.2: (fluorescent troffers) An airtight seal must be between the frame & interior ceiling (ok, unless this is an acoustical dropped ceiling)) – all seams & penetrations of the enclosure must be sealed (you might want to check with the manufacturer first & it depends on location)
5.15.3: NON-IC Rated – keep 3" distance from side & tops of fixture, top must be capped with drywall or equivalent perm & R-value (i.e. R 0.5)

5.16 – Dropped Soffits (think about above your kitchen cabinets)

5.16.2: Air flow will be blocked at soffit in locations where access allows
5.16.3: Option 1- Bring Soffit inside the envelope – be careful of wires, plumbing & oven venting generally located in this area
5.16.4: Option 2 – Leave it outside the envelope (seal it at the bottom OR side) not both?
5.16.5: Option 3 – Soffits containing NON-IC rated… Wow, I swore we just covered that above, ah yes 5.15

5.17 – Tongue & Groove Ceilings — The only interesting part which I agree with is that a backing will be installed to prevent air-leakage & allow for sealants to be used
5.18 – Cathedral Ceilings (umm, as you list it as a hot roof – what backing exactly is needed?)
5.19 – Special Regional Considerations, um wow I think we need a refresher on Moisture
Topic: Garage Sealing (5.20)
Yes, it get's it's own topic but instead of tearing it apart, I suggest someone pulls out the 2009 IRC & looks at oh sections 302.5 & 302.6 for starters (as for the closing off soffits, stairs, around certain vent's (yesterday' article) etc… you may just want to read all of 302)
Topic: Window & Door sealing (5.21 – 5.27)
5.21: Double Hung Wood Windows (nothing on sash pockets?)

5.21.1: Lead Paint assessment, congrats on getting it right "Presence of lead-based paint in pre-1978 homes will be assumed unless testing confirms otherwise"
5.21.2: Weather-stripping – seriously all existing weather-stripping has to be removed without checking it's condition?
5.21.3: Sash Locks – good in theory but unless you are doing major re-works to some of them, or adding additional locks, you may never get it were there is no gap
5.21.4: Replacement Sills- don't forget it needs a kerf on the underside to act as a capillary break
5.21.5 – .7 – I don't see anything major there

5.22 Single-Unit window & Fixed Frame with wood sash (we call them sliders, gliders, picture frame, etc…)

5.22.2: Operable windows "All egress windows will be operable as required by local codes" –hmm wouldn't this apply to all egress windows whether they are double hung, gliders, etc…)
5.22.3: Air Infiltration "Details that reduce air infiltration will be repaired, replaced, sealed, or installed" wow this sounds a lot better than removing all the weather-stripping on the double-hung wood windows above – while we are at it – doesn't this simply apply to all windows & doors?
5.22.4: Water Infiltration… same comments as above

5.23 – Exterior Doors (Basically the same as the windows, but they change .2 to Door Operation & Fit – door will be adjusted to properly fit the jamb & allow for ease of operation –that might be cool if it applied to all the windows also…)
5.24 – 26: Cracked & Broken Glass – Now see this is why you put the RRP as its own separate Global Safety item as removing a pane of glass & replacing the putty doesn't fall under the RRP except for in certain cases
5.27: Replacement windows – FAIL, read the bloody directions provided by each manufacturer for that particular window & follow them as they all have their own little tweaks & what flashing is needed where, when & how
The RRP:
Before closing out, I thought it might be good to point out that anyone utilizing federal funds (i.e. WX work) does not fall under the RRP, but under the LSHR which is a lot more detailed. In this case, if lead is found you also have to deal with OSHA's Lead Regulations which require air monitoring, respirator programs, shower facilities, etc…