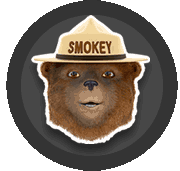 When we wrote our last Safety Sunday article on campfire and outdoor fire safety, there were 33 large wildfires burning across the US which has since dropped down to 31. Both Alaska & Arizona have dropped down to 3 fires each, while Florida on the other hand has jumped from 5 active fires up to 10. While Alabama does not have any shown on the map, there were at least 2 of them (Baldwin County & Jefferson County) in the last week which prompted a no-burn order to be applied state-wide. While I do not recall hearing of any evacuations caused by the fires in Alabama, there have been thousands evacuated due to many of those other fires.
If you have ever watched or lived through an evacuation (flood, fire, hurricane, etc…) you know there are 2 general questions on everyone's minds; when can we go home & will we still have a home to go back to. Many get to rest soundly as they know the fire fighters have two main goals – containment & protecting structures. No matter how great of a job they do, on average there are approximately 600 to 800 homes that don't survive (NFPA & Firewise).
For many that live in areas where forest fires maybe an issue, they generally play reminders of what steps one needs to do at the start of fire season. I recall hearing about them every year in Phoenix, as the news stations covered them for all of those owned a second home up in the Flagstaff, Sedona & surrounding areas. As many in Arizona did learn after the Rodeo-Chediski fire, wildfires are not limited to just forests. Whether you live in the desert, on the glades, on the prairie, and yes even in afforested area, wildfires can be a concern. With that in mind, here are our top five reminders & tips:
Create at least 30 feet of defensible space around your home including outbuildings, decks, etc….

This area not only provides a fire break from an advancing fire, but can be used by the firefighters to get their equipment in to help protect your structure.
This 30' area can include some fire resistive trees, but would be an open lawn area that includes your driveway and maybe some walkways
In really woody areas they actually recommend three zones – one within 5' of the house (just gravel or rock), the one out to 30', and another extending 100 to 200 feet into the forest (lots of tree trimming)

Store firewood & combustibles away from your home and outbuildings.

I know we shouldn't have to say it, but do not put them under your deck or on your porch either
Just like you do almost every winter, if a fire is approaching, place your lawn chairs, umbrellas & other gear in an outbuilding

Remove "ladder fuels" that link grasses to tree tops to any structure .

Basically this means trimming low hanging branches so that a fire can't go from the grass, to a shrub to a large tree and fall on your house
Any branches or limbs within 10 feet of your house and roof should be trimmed back
As a reminder, fire always wants to go up and out thus you stay in low laying areas if you are trying to get away from one (not hill tops)

Remove leaves, branches, and pine needles from roofs, gutters, and around the house. (I think we have that listed enough times in our Monthly Maintenance section)
Remove dead trees and other dead vegetation within 100 to 200 feet of the house (depending on your area)

This falls under the three zones mentioned above, but it's point is made abundantly clear by the two fires in Alabama – one was following the path of the tornado that hit Tuscaloosa, while the other one was feasting on timber from Hurricane Ivan.
In some areas a smaller area may suffice and you may also have to coordinate with your neighbors if the issue is on their property.
Additional Information & Websites:
Upcoming HTRC Article: Building a Fire Resistant Home & Deck

Flagstaff Real Estate & Homes – Home Fire Protection

Australia: Fire Codes

(Best in the world – with great diagrams)