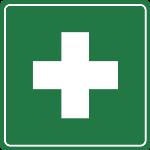 This week McAfee released there 12 scams for Christmas, which is really a misnomer as it only deals with hardware and online issues and for the most is a rehash of ongoing issues. The most interesting part of the list though was that the smart phones actually took the top two spots. The first one dealt with malware, followed up by the ever so popular – "there is an app for that".
Malware & Apps:
One of the most interesting & newest methods they did list for loading malware was by using a QR code.  This really isn't a smart phone issue, but rather a user issue, so make sure before you download that newest screen saver, app, or scan in that code –that you know it is from a trusted source. Many security firms like McAfee above have security software that will prevent known issues from infecting your phone which you may also consider. (For more info on QR codes – Nick @ Cupboards & Bob Borson @ Life of an Architect had some great articles on what & how they can be used)
Passwords:
Passwords aren't just meant for laptops & desktops; they should also be used on your smart phone. While it may slow you down momentarily while checking your tweets or stocks, it also helps prevent others from getting access to everything on your phone. Oh and just in case you are worried about being involved in an accident & need someone to call a family member, on many systems "ICE" calls are still allowed.  (For more info on setting up passwords on your phone – Adam Dachis @ Life Hacker)
Speaking of passwords, we don't recommend that you use the "save password" option for sites you enter on the phone – if you lose the phone, they have them all. No big deal right, my bank, etc… covers for fraud – well that is a yes & no, but you will need to read the Terms for most of these Mobile Banking sites as the protections for a stolen card generally do not apply if "you" transfer funds using "your" phone.
You're Data:
Unless it is needed, sensitive data should not be on your phone and if it is, you should at least encrypt &/or protect it with a password. In case your phone is stolen, there are ways of remotely wiping your phone which is covered in the Life Hacker article above. While I do have to laugh at the IPhone's lack of security features, they do have ne nice feature that can be enabled to delete the data after 10 failed attempts of the phones password. (Of course talk about a way to ruin someone's day…) Of course, that brings up this quick reminder – Just like a computer, you should enable the automatic backup feature for your contacts & data.
Disable Unneeded Features:
WiFi Auto Connect – Nothing says please share all my info I am browsing with everyone around… While it may take a few extra seconds, it is better to make sure you setup WiFi connections with trusted &/or secured locations. It doesn't take much for someone to setup their own little server which can capture all the data you are entering and sending (Facebook updates, email's, online banking information, PASSWORDS, etc…)
BlueTooth – unless you are using something that requires it leaving this on not only wastes your battery but leaves you open to specific BlueTooth attacks. If you do have an item that requires BlueTooth, many of them allow for encryption to be used between the phone & said device – can you say, Good Idea?
GPS Auto Tag – I think we will just let the video & advice stand on its own…


More Information & Websites: