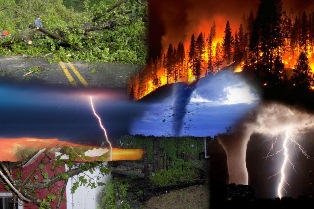 While living without power isn't fun, it's doable. When you start coupling that with other issues… well, things start looking a lot bleaker. If that's not enough, add in all the news reports talking about "You can die from being cold," or "Thousands of New Yorkers who survived Sandy, and are sticking it out in homes without power now risk freezing to death as temperatures plunge, officials warned" is enough to send one that might not be prepared into a full fledged panic.
With that in mind, let me remind you of the first rule taught to scouts, the military, or those that go to survival school which is, "don't panic" & mind your attitude. That is what allowed a 12 year old wearing only jeans & a shirt to survive overnight in 31° weather outdoors. Unlike the 12 year old, just remember; you already have a shelter with clothes, blankets & bedding available. If you have kids, by being upbeat & positive – treating it like a camping trip can help bolster everyone spirits & yes even might even make it seem fun to them.  So how can one weather the freezing temps without power – well here are some suggestions:
Shrink your shelter:
Find one room or two to stay in & to keep warm – shut the rest of the doors

Generally this will be a room towards the center of the house or the main living room
If possible you want one with the least amount of exterior walls or the more sheltered walls
Carpet is a great insulator & will always feel warmer than a hard surface
Grab some mattresses (skip the box springs) & bring them in – not only is this for comfort, but prevents heat from being lost into floor

Use a "door snake" (rolled up towel / long bean bag about 3" around) to stop drafts from coming in under the doors.
Cover the windows at night to prevent heat loss
Use alternative heat sources
Do I really need to say if you have a working fireplace now would be a good time to use it – these worked great for our ancestors
Ventless fireplaces or space heaters are also a great backup heat source (though they should not be used without a window at least cracked open or when the power is on)
DO NOT use your gas stove, propane grill, or charcoal grill as the carbon monoxide will kill you quicker than your shivering)
Lanterns & Candles are great for giving off light & some heat. Just make sure you use your head & keep them away from flammable items (above / around them) and away from areas where they can get bumped & knocked over.
Sleeping:
Got a family – Create your own little igloo or tent with blankets for the sleeping area

If you do have a tent you use for camping set it up
Drape some extra blankets (or better yet some space blankets) over the dining room table (assuming it is big enough) or stretch them over some couches

Break out the blankets, sleeping bags & pillows

A sleeping bag is best due to its layers surrounding you, but the same can be accomplished with blankets, quilts, comforters
Lay them out flat during the day allowing for any sweat, etc… to dry out
Don't sleep in your clothes – long johns are fine. One trick I used to do when camping was to grab the next days, roll them up & place them in the sleeping bag so they were warm the next morning
Eating & Drinking:
While you may not feel thirsty, the cool dry air is stealing moisture from you so make sure you drink water throughout the day. Our bodies are a great machine, but without fuel it can't regulate our temperature as well so it is important to also remember to eat. One hot meal a day is a great way to rejuvenate the spirit & help keep you warm so you might try cooking outdoors on the grill or inside on the fireplace.
Water:
It stands to reason, if it will get down to below freezing in your home, the pipes will freeze & any water supplies you have will also.
Turn the water off at the main & drain the lines into some one gallon jugs (leave a faucet or two open)
For drinking water – place the jugs in the refrigerator or freezer which will help prevent them from freezing
For those looking at multiple days below freezing with no power you should also winterize your home  like a vacation home – drain the water heater, flush the toilets & add some special antifreeze to it (outhouse anyone?)
Refrigerated & Frozen Food:
For those impacted by an ice storm, many consider placing the food outside to help it keep – please don't as you don't know what is in the snow & you have to be careful about the sun shining on it. A better trick is to freeze some water bottles overnight & using those to help keep the food at or below temperature. Safety Sunday: To Toss or Keep the Food?
Dress for success:
Just like one dressing to work outside, dress in layers & try to stay busy. The more you move the warmer you will be. One item though is try not to exert yourself so much that you start sweating. If you will be working that hard, take off a layer or two to help prevent that.  Chemical packs & hand warmers also are great ways to help keep you warm, just make sure you read the directions.
Lighting:
While I did mention candles & lanterns above, LED lights are great as they last a long time, don't use batteries up at a tremendous clip & won't start a fire. If you want to light up a large area take a headlamp style one & strap it on a jug of water. The water scatters the light & helps light up a larger area as compared to just the beam. (Interesting video on how this works from the Philippines)