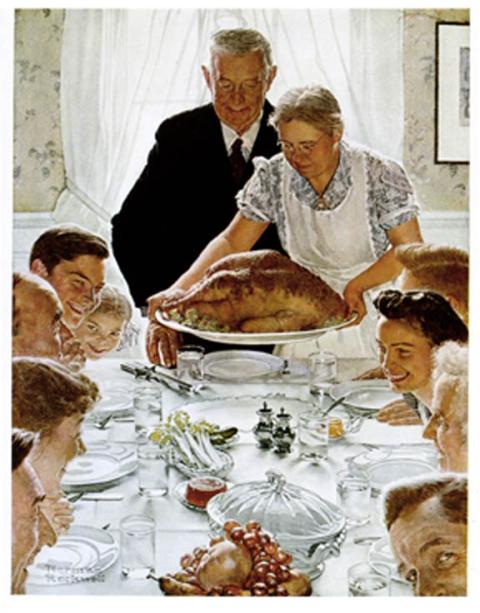 Full confession; we are nowhere even close to being ready for Thanksgiving this year. That nice "getting ready for the holiday checklists" that I created & have honed over the years – yeah, I just barely pulled it up with 5 days to go. (Fortunately we aren't traveling & the guest room is always ready) Shoot we haven't even picked out a turkey yet, which we generally already have sitting in the freezer.  I know, 5 days is still plenty of time, but what can one do with only 5, 4, 3, 2 or even just 1 day to pull off a traditional Thanksgiving?
The Menu:
The first step is to figure out the menu & the amount of time you really need to pull it together. Once you know what you are cooking and what you need, it is time to raid the pantry to see what you really have & if it is still good. (Save the decluttering till afterwards & skip to the bottom for shelf life)
If you are really running short on time, consider dropping a few items off the list or maybe seeing if someone else would consider cooking & bringing a few items over.
I know, many will call it sacrilegious, but if time is really against you; consider going to a restaurant that sells pies & cakes, or pick up a frozen one & add a streusel mix on top to make it look homemade. One other trick is to place it in your normal cooking or serving dishes.
You might also consider calling ahead and picking up a fully cooked honey baked ham on Thanksgiving. How about the pre-cooked meals offered by some stores? Well that really isn't my thing & I have heard some good & some bad so I guess it depends all on who is behind the counter.
The Turkey:
As a reminder, the general rule for defrosting a turkey is leaving it in the fridge 1 day for every 5# of weight. We typically recommend that you add one additional day just to play it safe, especially as our refrigerator is set at 34°. If your is adjustable, you may consider bumping it up to 38° or 40° for the days leading up to Thanksgiving & turning it back down to 34° on Thanksgiving Day.
So it's Wednesday & you need a turkey…Well don't feel too bad as I am sure the store is full of others in the same boat which might lead you to another small problem – selection. You may wish to consider just buying a Turkey Breast or 3; 2 small turkeys instead of a large one, or going with ham, lobster, or something else to spice it up.
When one gets down to the wire, don't leave it on the counter & instead go with a cold water bath. If all else fails… well there's an app for that (Food Network TV app) or a dozen numbers one can call for not only talking turkey, but finding recipies & cooking help.
Guests spending the night:
Don't you just love last minute surprises? Fortunately we do have a piece on Decluttering for the Holidays. While the Battle Plan & the hallway closet might be out, the rest can generally be accomplished pretty quickly. Besides I am sure you have some room in a few other closets to hide a few items… Now, now, don't act so shocked, just remember I do energy audits & see where everyone throws stuff for that last second "clean look."
With that, from my family to yours, Happy Thanksgiving everyone