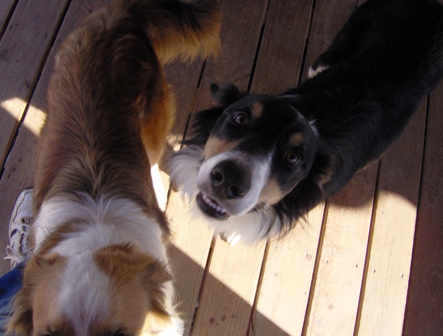 This week's Safety Sunday article is brought to you courtesy of our newest dog – Jasper. Jasper is about a year and half-old Collie mix, and was a rescued dog that we got about 4 months ago. Yes, that is him on the right, while Ziva is the one messing around on the left. You want to talk about hard, try getting those two to still for just a second to snap a picture. Yeah, I gave up & simply went with this one.
Ok, getting back to the article… Jasper is pretty well behaved, knows not to eat food left out, and we have never had an issue with him on this. Last night as I was contemplating whether I wanted to do a holiday & your pets' article or another one that was on the drawing board, I guess he figured out what I was debating and helped me decide. Anyone care to guess who was caught with their snout in the open cookie jar that was in the Living Room?
Food, food, & more glorious food:
Turkey, Ham, and all the fixings… just a small little piece is ok, right? Yes, as long as it is fully cooked, there are no bones, and you do not overdo it. Also, be careful with the seasonings that you use including Sage, if ingested it can cause you poor dog or cat some discomfort.
Raw foods like cake dough, bread dough… should never be given to your pets – the eggs can carry salmonella & the bread dough can actually cook and expand in their stomachs.
Food placed on the table or left out… should be covered & placed away from the edges to help eliminate the temptation for your pet to follow its natural instincts instead of its training. Needless to say, cookies are not good for pets, especially when they contain chocolate or other items that can easily upset their stomachs.
The Kitchen & prep area's… just like kids, you do not want them running around the kitchen while the cooking or setup is going on. Make sure the pot handles are facing in, and they are not underfoot while you try to pull the turkey or hot foods out to prevent scalding and burns.
 Secure your trash… all bags and containers should be sealed and disposed of properly to prevent your pet, or a neighbors pet from having a feast and leaving you another mess to pick up. The major issue besides cleaning up a second time is the bones that can seriously hurt your animals.
In & Out of the House:
Have a lot of company coming over… Consider feeding them away from everyone in a nice quite area, taking them for a nice long walk before company shows up, and allow them to have a nice corner where they can go to relax. In some cases, it may be best if you leave them in a closed room, friend's house, or maybe even a kennel depending on the type of party, their behavior, etc…
Parades and outdoor events… While many people love bringing their pets to parades and other festivities, it might be best to consider leaving them at home. The amount of people, kids wanting to crowd in and pet them, noise, other animals, etc… can easily stress them out.
Fireworks and other loud noises… Your animals have sensitive ears and can be extremely frightened or stressed out by the fireworks going off. It is best that they are kept inside, in some cases with the TV on. By keeping your pets indoors, it will help reduce the risk that they will run loose or get injured. In many cases, a few kind words and some petting will help them calm down.
Decorations… Cornucopia (Horn of Plenty), mistletoe, small ornaments, tinsel, candles, Christmas trees, etc… all can pose issues with your pets. Not only should you avoid tempting them with food left out that might not be good for them, but remember that they are just like toddlers & little kids sometimes. (i.e. inquisitive, prone to knock things over without noticing it, putting things in their mouth that they shouldn't, etc…)
Tags, shots, and other pet care… Not only should you always make sure that your pets shots are up to date, but make sure they are wearing their tags in case someone leaves the door open, they get spooked, take a nip out of an inquisitive hand, or they try for their great escape. One other item to consider, if your pet will be spending more time indoors, is to make sure their nails are trimmed.
Additional Info & Websites: