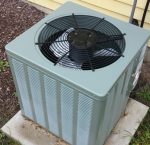 It seems there are numerous questions regarding the outside HVAC unit – from how can I hide it, can I build a deck over it, to does shading it really help save me money? Well lets see if we can help answer some of these typical spring & summertime questions and look at some of the reasons behind them.
How can I hide that ugly outside unit?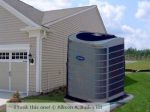 I just love this play on a picture via Allison Bailes of Energy Vanguard as this is how many people view their outside unit aka condenser – big and ugly. This leads us to one of the biggest questions out there. "can I put a fence around the unit, or plants, or…" The short answer is yes but…

One of the interesting things about this picture is it was a play on how much larger the condenser units were getting. For example many people that decide to upgrade to a properly sized system (say 5 ton to 3 ton) higher SEER unit (say 13 to 20) while also taking care of the ducts (very important) is how much larger the outside unit is. Why the increase in size? Well, that is to increase the size of the coil, increasing the airflow to help reach the increased efficiencies.
As pointed out above (History) in order for the units to work as designed the condenser needs the proper airflow to work properly. Granted you can sacrifice some performance (i.e. higher run costs) for looks, but if you do to much it can really cost you in the wallet when it comes to repairs or needing to replace the unit early. The other issue is you also need to make sure you leave enough room to also have work & maintenance done on the unit as necessary. The best place to check on how much room is required is with the manufacturer (or see below on Spacing: Rules of Thumb)
My neighbors unit is super loud, how can I quiet it down?
While you can't do anything about your neighbors unit (besides buying them a new one) there are a few ways to help reduce the noise that reaches you. The first thing to remember is that sound travels mainly in a straight line, so anything you can do to block it is going to help. For example, placing a wood fence, masonry one or even planting some shrubs between the two properties will help out a lot. Got chain link – try ivy (just keep it off the house).
While many people that ask about this are ones that like leaving there windows open, it isn't always the case. If your windows are closed, consider upgrading your windows &/or doing some air sealing work. Like leaving your windows open, consider installing some real shutters to help block out the noise, while still allowing air in. One other trick is white noise – like a running fan.
Can I build a deck over my HVAC condenser?
Much like the question above the answer is yes but you need to allow for proper airflow. Based on the condenser needing / moving approx. 900 CFM per ton (yes that is double the airflow inside – 400 CFM) which should not be recirculated back, that can make things tricky. As a general rule of thumb the answer is the deck should not be less than 5′ feet above it… Ahh but what happens if you want it lower – consider pulling a trick used in the cities – remove the decking in that area and go with a metal grate.
Will shading my unit reduce running costs?
I have some good news & bad news here – the answer is yes but probably not as much as you may be led to believe. The first thing to remember is the amount of air that the system moves (900 CFM per ton as mentioned above) which means you would have a lot of ground that needs shading to lower the outdoor air temps. With that if you can place your unit in a naturally shaded area it is better than leaving it in the full sun. How about shrubbery around the unit – it can help a little but that would be a lot of ground to cover & as mentioned above you need to ensure there is enough airflow reaching the unit or your "gains" have probably been nullified. Per a 1996 FSEC study, the range of savings is 2 to 10% with most averaging 3%.
Will Misting my unit…
"Start saving up to 30 percent on your summer electricity bill with our…" Two words – yeah right. First as mentioned above the savings are closer to 3% not 30. Next while the process of evaporation does reduce the temperature it will only work when the dew points are low / aka very dry climates (that is assuming you are pre-cooling enough air around the unit). While this might work in say Phoenix Arizona there is also one other consideration – hard water. Shoot even if you have a water softener, you have now added a ton of salt /potassium to the water. In all cases, guess what is going to build up on your unit reducing it's effectiveness over time.
Spacing: Rules of Thumb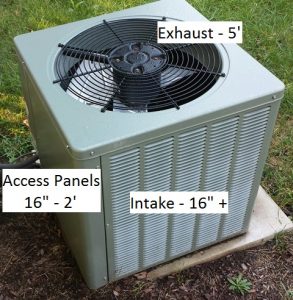 First let me re-iterate that these are just rules of thumb in case your manufacturer doesn't provide any. Also while a manufacturer may provide you with some smaller ones, that doesn't mean it is optimal so I would suggest using the bigger number. If you are putting it behind a fence, don't forget to allow enough room for the gate or opening to be able to get the unit out & as mentioned above, be careful as newer units are considerably larger
But wait I have two units? In this case you should allow for 4′ of separation
How about a packaged unit with the fan on the front? In reality nothing changes but if you are going to cover it with a deck or shade structure above, don't forget about maintenance as many have access plates on the top & a newer unit maybe larger than what you currently have.
Curious if you need to cover the unit when the leaves or snow start falling? Check out our Fall / Wintertime HVAC FAQ