Words matter – it is true. What of course isn't as simple, is how much does a word or a phrase really matter? In some cases you might just look silly, smart, pompous, or maybe even insensitive. Going to the extremes with just one wrong word, you could lose a fortune or even cost someone their life.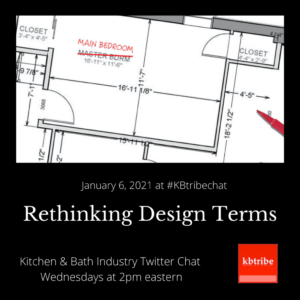 This weeks musing is partially based on this weeks #KBTribeChat January 6th, How can design terms be more inclusive? which unfortunately I am probably not going to be able to catch. They have 5 main questions this week starting with the term "Master Bedroom", and then ending with the question – Are we being overly sensitive??? Like most #KBTribeChat's this one looks to be an interesting one & I do encourage you to catch it.
Inclusive:
Before we talk about some of the questions, it might help to clarify what inclusive means. Inclusive is an interesting term & it can be far reaching but also quite limited. For example an all-inclusive resort… might not include everything available at said resort.
Inclusive is an adjective that includes or encompasses what the stated limit or extremes are being considered or accounted for. Unfortunately when we hear many talk about "inclusive" now it is in a very small focused (some could say narrow minded) way where they try to attach guilt to you as an individual / group or show why they are so much more enlightened than someone else.
Master Bedroom is racial?
"Master Bedroom" has so many racial slave owning overtures… Uh really, can anyone guess when the term Master Bedroom was first used in print? Let's try 1926… yep, in an ad for the Sears S3245 Glen Falls Dutch Colonial 9 room house. ($4,676) This is the first recorded use which actually referred to it as the "Master's Bedroom that easily accommodates twin beds"… For those trying to remember history class, the 13th amendment was adopted back in 1865 i.e.60 years before this term came about.
Yeah but, how about using terms like primary, main, or owners? Heh, for the last one I can't wait till someone calls out an "owners bedroom" or suite in a rental, does that mean???  Quite honestly I would expect more hatred for the word "Owner" or even "Sir" seeing people weren't called slave masters but rather owners & slaves probably used the term sir more than anything else… With that said, times do change & maybe one of those terms may take hold just like the term did back in 1926, but for now "Master" is still the primary term used by almost everyone. Along those lines if "Master" is so offensive, how about those who master a skill, earn a Masters, win the Masters or…
Jack & Jill / Sexism:
Quite honestly I have never understood the term Jack & Jill bathrooms – didn't they fall down a hill or something? Backing up to the one above, another black mark (yes pun intended) against the term Master was that is was also seen as being seen as "male" only. As mentioned above, times do change & if you think a female can't be a Master of the domain, house, or whatever they set their mind to, well you have probably been living under a rock. The biggest catch is that one must stop believing pundits or those that say one can't / it's hard & show that that yes one can. (Well at least here in the US – other parts of the world, that might not be so wise)
Butler's Pantry / Scullery:
Know the difference between the two?  Guess what, there really isn't one, but one term is a more popular than the other… Same thing with would you rather have Patagonia Toothfish or Chilean Sea Bass? Is the term butlers pantry derogatory? I don't think so. How about today's butlers – are they slaves or rather employees? How about places like Butler, Indiana or Butler University? Racist – nope / Sexist – nope / Insensitive – nope
Service Entrance:
When I first that one, I was going what does ones electrical system have to do with the conversation? Yeah I get it now. Look we lost the term "Servants Entrance" but  going after the word "service?" Employee entrance is used commonly enough but sometimes you need those that perform service work (HVAC, Electric, Plumbing, Pest Control, etc…) to go through another door besides the Main or Employee one – so I see no issues there. With that if something is getting all bunched up, why not call it the "Trades Door?" Racist – nope / Sexist – nope / Insensitive – debatable but not really
Other Terms?
Dumb waiter or dumbwaiters have been around since the Greek & Roman eras (which yes they used captives as slaves) but no one knows where the term originally came from. Popular belief is that it was derived from the original meaning of "dumb" which meant one incapable of speech, so essentially you had a silent or dumb waiter holding the food that was prepared in the kitchen (either next room over or located in the basement). Racist – nope / Sexist – nope / Insensitive – debatable but not really
Lazy Susan is wait for it, a rip off of the "dumbwaiter." For more on the mystery of the term & who invented it: The History of the Lazy Susan | Native Trails (nativetrailshome.com) I would say check out that piece. Look unless you have a "Susan" who is part of your family or is visiting I think you are safe using it.
Plantation Shutters or is that Shudders? Shutters had been around for quite a while – yes back to the Greeks again – though most were solid & did not have movable louvers. True Plantation shutters are courtesy of the Spanish who settled the southern US to help protect the homes from the weather while allowing light in with movable louvers.  They were traditionally located outside & wider than the windows (unlike the shudders we see people install on houses now-a-days – fixed & to small to cover the window). Needless to say some describe the term as dredging up slavery & being racist. Better term – can't really think of one though Hurricane Shutters might work based on area
Redlining is a popular term used by many in the Building Science field & Code Enforcement arenas. It also happens to refer to a common practice where banks and others would refuse to either offer mortgages or offer higher rates to customers in certain neighborhoods based on a persons race or the ethnic composition of the area. Essentially they would have a map which they would highlight areas in red ink. Needless to say that practice was eliminated under the Fair Housing Act. Does this mean that one should eliminate that term as very few remember it or?
Black is… a descriptor. Yes it can indicate a persons skin color but also when a business doing good (in the black) along with another 1,000 or other ways. Is it racist, sexist, or insensitive – mostly no. It takes context & tone to turn that word into something that it shouldn't be just like many of the other terms above. Racism at it's core is not only seeing others of different color, creed, or ethnic background as less of or more of a person but treating them that way.
Sensitivity & Life Today:
So are we to sensitive / trying to be politically or over correct – yes. Are some to gullible or just want to lord over others that hey I am better than you or to feel better about themselves – yep. Do words matter, sure they do, but so does context and the ability of people to move forward & not get stuck in the past.
I would be remiss in not saying this but real widespread racism, sexism, and slavery still exist. The first two are alive and well in some very specific countries and cultures. Slavery is still global, though we like to use less dramatic terms like the sex trade or sweat shops to make it sound more palatable. I think much better use of everyone's time would be spent trying to solve present day issues & not simply live in a past none of has lived in.