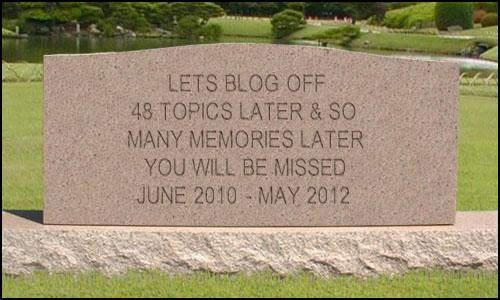 Let's Blog Off, June 22nd 2010 – May 8th, 2012, after 48 topics with 800+ posts contributed by a 134 different contributors the Let's Blog Off will officially be laid to rest tonight at 9PM EST when the proud parents Gerard & Paul pull the plug.

While its rise was like a rocket, it unfortunately plateaued out and will leave many wondering, what if? While this question may be debated for years or might already be answered in some minds this pales to all the wordsmiths they brought together and the stories told. Where else but here would you find a Brit living in Sicily to a Southern Lady that could make a sailor blush, or from those just starting out on their journey to those that have lived their life filled with so much love and adventure one truly can't help but be amazed that they are all contributing, commenting, encouraging, and tweeting each other's posts.

Unfortunately as they say, all good things must come to an end and will surely be missed by many. Instead of flowers & mourning, all participants are encouraged to reflect on what they gained from the experience, whom they have met, what they would have done different & to look forward.
Reflections:
My first recollection involved laughing my butt off at not only the shoe tub which was that week's topic, but also seeing how all the different designers approached the subject. The very next week the topic was on living small & I decided to throw my "contractors" hat into the ring with 11 designers. The rest as they say is history with me contributing a total of 33 different times. While I wish I could consider myself a great wordsmith, the truth be told I can barely hold the candle to some of them though this experience sure has helped me improve my writing and open up.
While I would love to give a shout to all the writers individually that just wouldn't be possible so let me just say to Paul & Gerard – thanks for all the great posts, the encouragement, and giving us all a place to call home every other Tuesday. As for what could have been done different, all I can say is that is neither here nor there as this is where we are at now. Thanks again & best of luck to both you & everyone else on their future endeavors.




P.S. While one good thing comes to an end, another starts or should I say gets restarted. Back in January 2011 we were challenged to write our own obituary & I twisted it into a series where we figuratively get to place certain myths, misconceptions, or products to rest. That April many states were affected by one of the largest outbreak of tornados & when it came time for the next one I just couldn't do it with all the death & destruction around us. I guess this was an omen that it is time to restart that series.