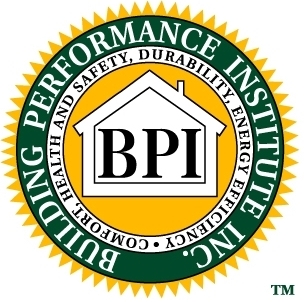 Woo hoo – I am taking my last BPI class that this time is being taught by EverBlue. I must admit, after my problems with Clean Edison, and then a few snafus with EverBlue's computer system, I was wondering if I was ever going to get my BPI Building Envelope certification. As you can obviously tell, I have made it through day 1 and should be getting my final certification in another month, or two.
The one interesting thing is that the first day was being held completely in the field instead of a classroom. The reason for this was actually quite simple; this is actually an overlapped class. While today was my first day, for four other students, this was the 3rd day of their Building Analyst class. Tomorrow morning they will take their Building Analyst written exam, while I do not have to be there until 1 PM for the "Classroom" portion. For the two students only taking the Building Analyst part, they have to wait until Friday afternoon to take their field test while 3 of us will have to take the written portion of the Building Envelope on Friday morning, followed up by the Field test.
While this does lead to some downtime for three of us, this method of combining classes does make plenty of sense. I wish I would have known about this type earlier on, but what can you do? In case you are wondering if the students taking both classes have to take the field test twice – the answer is no. How, what, why… in actuality, the field test is exactly the same with the exception of adding in the pressure pan (you're kidding me right?) & talking about air sealing. The biggest thing with BPI is their CAZ testing protocol, which I think, is worth its own article a little later along with this pressure pan issue.
Field Training
I don't think I can state this any clearer, but if you really want to learn about a subject, make sure the instructor has plenty of field time. Well simply by looking at the equipment, you can tell the instructor has used it a lot. The best part, he really knew the subject and the only small con I could possibly see in this case was that he did not go through the entire audit systematically. For those that know the subject, with their provided checklist, this should not cause an issue. However, for those that need to see the whole procedures in a step-by-step fashion, this could pose an issue. While their checklist seemingly bounces around a little, the good thing was it actually included an item that was never mentioned, nor checked in the prior class to my knowledge & that was testing the CAZ with the air handler(s) being on.
 Oh and as for the instructor's name, sorry, but I will have to catch that again tomorrow.