Believe it or not, Matthew just turned one & when he gets moving watch out. One of the more interesting aspects is looking at all the information out there on topics like kid proofing a home. We have two guest posts on this topic from 6 easy tips, to renovations. Needless to say some you find out there is completely contradictory & some recommend that you install locks or gates before you even bring the child home…
Just where is the line when it comes to creating a safe house for your kids (or pets) without appearing outright paranoid or ending up being completely frustrated at being unable to perform simple tasks without disengaging locks or opening gates everywhere? With that I thought I would offer a thoughts on the subject.
Age Appropriate:
Unlike a puppy that can walk after birth, your baby won't be creating mayhem for at least a few months. That gives you plenty of time to get items you don't want destroyed or are dangerous out from lower places & store them up higher or in locked cabinets. Of course in our case, all this was pretty much done before that trip to the hospital due to our dog which would chew anything up.
When the baby can start turning & raising it's head, then you should definitely start thinking about & getting ready to put up gates to block stair cases. With that said, make sure you allow your kid to learn how to crawl up & down them with you there, so if something does happen, things should hopefully work out alright.
As for all those fancy drawer & cabinet stoppers till later to see if they actually become necessary. Kids just like pets also outgrow some items and can learn what the word no means (just try not to laugh when saying it).
Locks for cupboards: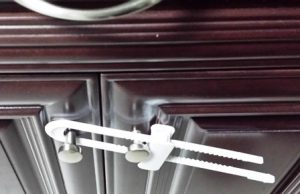 One of my favorite sayings is that locks are just meant to keep honest people honest. While little kids aren't dishonest, they are explorers, curious, and learn quickly. It is best to make sure that items they should not get access to stored out of reach behind a keyed lock. We only have one child lock for a cabinet that we cant move the items from. With that…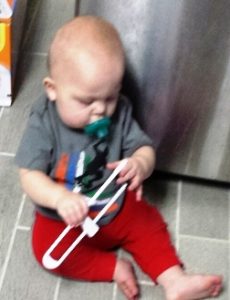 Don't ask me how but someone found himself a new toy. This gets down to the best advice we can offer, always pay attention to what your kid is doing. When they go quite, it is time to definitely take a peek.
As for pets, don't ever put treats or their food in the bottom & they generally will not try to get in. For trash, consider switching to a pull out drawer style instead of out in the open / behind a door style to also help keep them out.
Think outside the box: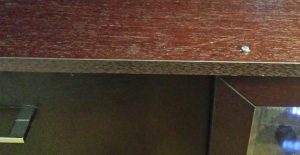 This is our media cabinet with a sliding glass front & two drawers. Just how can one lock it with two drawers & a sliding front which you should leave open some to allow the hot air out? While I looked for a system like one uses on metal patio doors I couldn't find one here. No problems, I just simply drilled a small hole through the top of the cabinet into the door where I inserted a small nail/ Now I could leave the door open, but not far enough to allow someone to play with the boxes inside. Bonus – the drawers are blocked also.
Gates: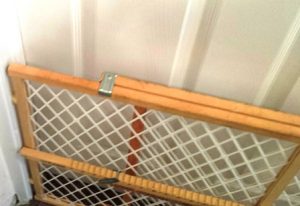 There are three main ways to keep a child or pet out of a room. The simplest is to close the door but it sometimes is not really an option. The most common method is one of those gates with a spreader bar like this one. The catch with that, if enough weight is applied to the side without the door stops in the way, it can collapse.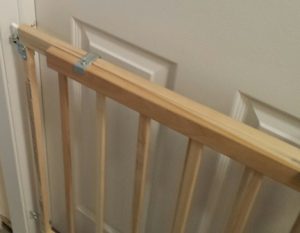 Another gate option is a latchable version – the only downside is that most are taller than the version above meaning you have to unlatch it to get in, instead of just stepping over.
The Holidays: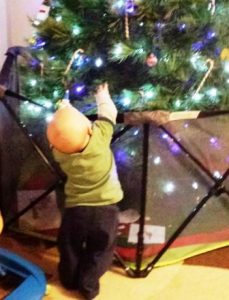 Just like tinsel & other items found on a Christmas tree can be hazardous to your pet, so they can be for your youngster. Not only that but they can easily pull it over on themselves. Well in the spirit of thinking out of the box and seeing he no longer uses the playpen…
How about them outlets?
If you happen to live in a newer code built house (since 2006 IRC as I recall) you don't need to worry about using those silly little outlet covers. Why because they started using TR or Tamper Resistant outlets that require both prongs to be inserted in at the same time to let you get past some plastic guards in the outlet itself. Don't want to use those silly covers (trust me I don't blame you as they are #1 a chocking hazard, #2 easily removed by a kid & #3 a pain to remove by the rest of us)? Consider replacing your existing ones with the newer styles.