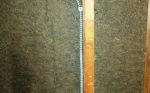 I opened up my walls and there is this black (or brown) fiber board where I should see exterior sheathing… This generally leads most to ask; just what is it, followed up by, it has pulled away from the studs is there a way to fix it without tearing off the exterior siding. Oh wait, is this a good enough air / vapor barrier?
Just what it is:
Depending on where you live in the country – over the past 100 years it has gone by names like Celotex, Homosate, fiberboard, a nightmare… & the list goes on. It started off just like felt paper did, as an asphalt impregnated product but instead of being made from cloth or paper it was made with pressed fibers. The materials & methods of creating it have changed over the years and it is very popular for sound control, expansion joints, & roofing. For a while it was also a popular item for exterior wall sheathing but fortunately not to much anymore – now it is best to stick with real sheathing followed up with WRB, &/or Foam.
Fixing it from the Interior: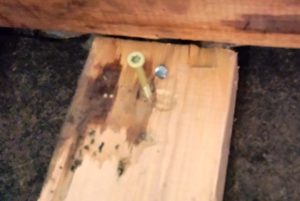 So while the best fix is to remove it all together from the exterior, in some cases you might not have that ability. For example in this case there is a block wall on the exterior. Pulling the 2×4 back in place is easy enough, but how about the fiberboard?
Trick #1 – drywall screws: Got a masonry wall behind the fiberboard, you can screw some rough thread drywall screws through to help push the board back in place. The catch is that if you use them to hold it in place it can rust out & you should only try this route as I said, if you have something solid behind it like brick or block – if you have aluminum or vinyl siding behind it you could drive through it and pull the material the wrong way.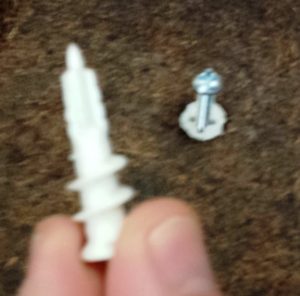 Trick #2 – drywall anchors:  Talk about a great way to not only pull the drywall back by pushing away from the material but if left in place there is no rust to worry about. Need to pull it in a little further insert the screw & carefully apply pressure.
Trick #3 – molly anchor: This generally will require one of the other methods above so you can insert one but it works great if you need a little more room to pull it tight (as you can see below). Want it to stay without leaving the bolt in, you could spray a little foam in it (masonry only).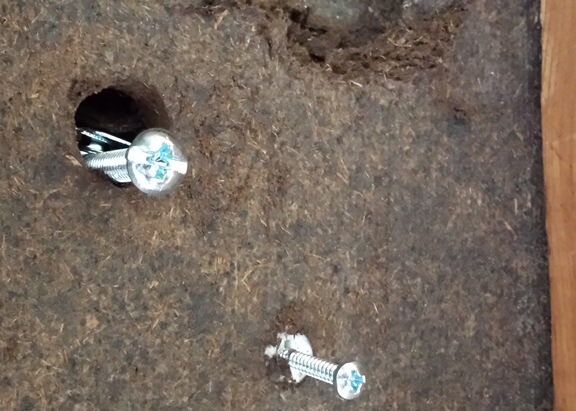 Air / Water / Vapor Barrier worthy?
In short, do to it's location in this case – yes for water & vapor. Beyond that it will never be a good air barrier & in other cases it will not be a good WRB. The good thing though, you can take care of many of those issues from the inside except for bulk water issues.
Insulate?
While one can choose many ways to insulate an assembly, you are getting into limited territory in this situation. Fiberglass insulation won't stop air flow which allows for vapor movement – now if you can make that assembly air-tight on the top, bottom, and of course the interior, you might have a choice. Blown in cellulose – same as above but don't try dense pack. The best method which I will be covering later is using foam board and sealing around the edges.