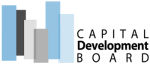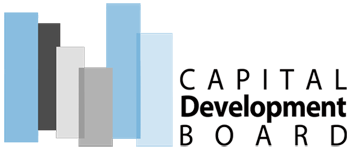 UPDATE: By a margin of 4 to 1, the ERI is being recommended to stay in the codes, basement's only need the top 4′ & the 62.2.10 spec still stands.
Monday April 6th (10 AM to noon) will decide whether the ERI aka as the HERS option will be part of Illinois new Energy Code or dropped till the next code cycle. While many local rating companies joined forces to help get it brought back up for discussion after it was initially dropped the ICC & RESNET are now also stepping in. Per the official meeting notice:
This purpose of this meeting is to discuss revisions to basement wall insulation which includes Tables R402.1.2 and R402.1.4 in addition to Section R402.2.9, Section R406 Energy Rating Index Compliance Alternative and Sections under R403.6 Mechanical Ventilation (mandatory).

If there are any other organizations or individuals other than HBAI, RESNET (Steve Baden) and International Energy Conservation Consultants LLC (Darren Meyers) that would like to provide comment on any of these issues, please notify me at least 24 hours prior to the meeting and you will be added to the agenda.  A maximum of 5 minutes will be allowed for an organization or individual to speak on any one topic unless more time is allowed by the Chair.  Depending on the number of requests, the time may be limited to 3 minutes.  Otherwise, participation from the public members will be allowed at the discretion of the Chair and subcommittee members.

Call in number: 888-494-4032 — Access Code:  5320480706
As you may recall from our last piece, numerous items passed which includes Illinois keeping the allowable air leakage at 5 ACH, some administrative language & the elimination of the sealed mechanical room. The three items still up for debate is the HBAI & there fight against changing the current 4′ requirement for basement insulation (Darren's pushing for 2009 standard full depth at R10 / 13). The second is the ERI which RESNET & hopefully the HBAI will be fighting for against IECC & some bad perceptions (to difficult to understand, requires much more training…). The final one is are we going to adopt 62.2.13 which initially passed but was brought back for reconsideration.
RESNET call to action:
…There is a move to remove the Energy Rating Index option from the code in Illinois. We need your help to keep the Energy Rating Index option in the code adopted in Illinois. Please send Lisa Mattingly of the Capitol Development Board support letters or emails for adopting the 2015 IECC and retaining the Energy Rating Index provisions in the code. (Letters need to be sent by Friday April 3rd at the latest)

Some talking points to consider:
HERS Raters must go through stringent training and testing to be certified and are subject to rigorous quality assurance oversight
Over 150 code jurisdictions have already incorporated a HERS Index option to their codes
Last year over a third of new homes sold in the U.S. were energy rated and issued a HERS Index Score.  To date over 1.5 million homes in the U.S. have been energy rated using RESNET's standards.
HERS Raters are already involved in inspecting and testing for code compliance in Illinois
The HERS software report on the 2015 IECC Energy Rating Index compliance report generated by REM/Rate is intuitive and easy to understand (I have attached a copy of the REM/Rater report for your use)
RESNET & ICC Joint Letter
The International Code Council and RESNET have already sent a joint letter to the State of Illinois. (To see the original, click on the image)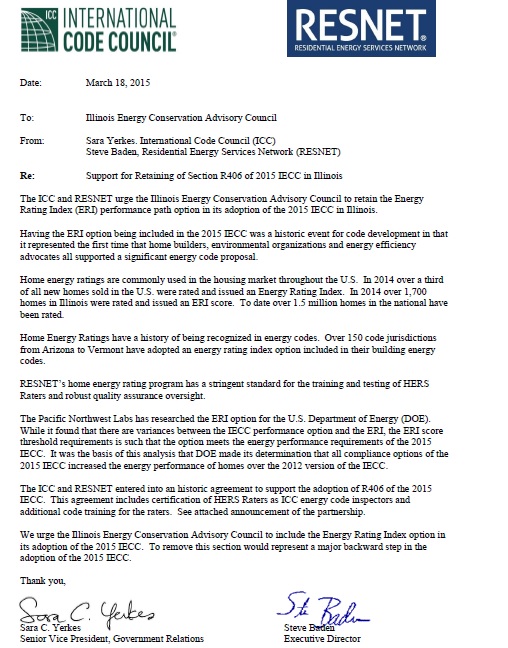 The super hard to read report:
One objection raised is that this would be hard for code officials to understand and to ensure compliance. With that Steve sent a copy of the 2015 IECC ERI compliance report. This one was generated for a house in Texas which has a lower ERI number requirement than Illinois (52 vrs 55/54). As you can easily see this house fails the target HERS rating & also the required ACH target. As for all the other required IECC mandatory requirements it easily passes. Compared to many other items code inspectors have to be able to understand, this one looks like child's play.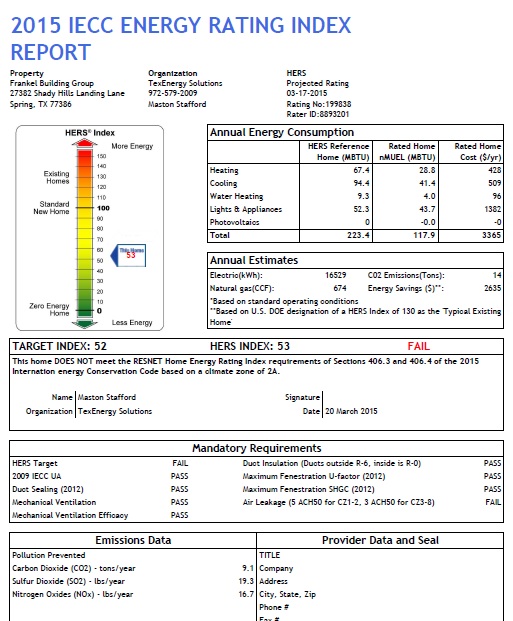 Letter from Pima County:
To further show that the ERI option is pretty easy to implement, the following letter was also submitted from Pima County Arizona which has been using this option since 2013. For those that don't know, Pima County is the second most populous county in Arizona which covers over 9100 square miles with Tucson being the county seat. I got to say the last line nails it especially with how short-handed &/or overworked many AHJ's are now.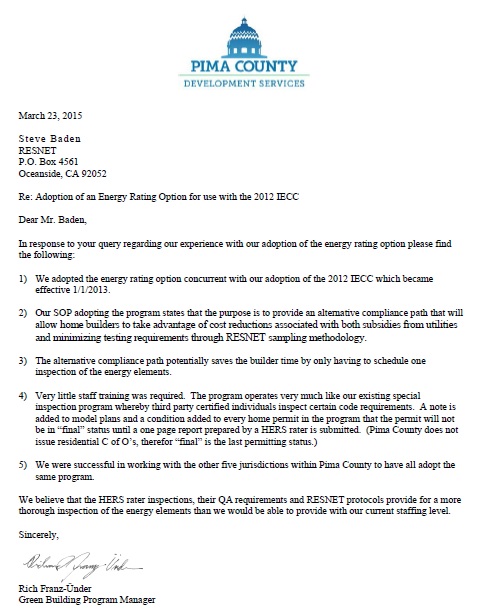 In closing, next Monday will definitely be interesting to see how this finally shakes out. Hopefully the bad perceptions that some have pushed to get this blocked will be disproven, but hey this is the land of vote early & vote often. After this meeting is held, it will got to the full committee which is unlikely to overturn any recommendations and then it goes to the Capital Development Board for final approval. If you are a builder, rater, or code official that would like to weigh in, please see the RESNET call to action section above. If you would like to add your name to the online petition to keep it – click here.