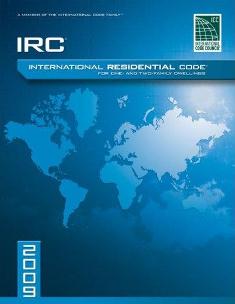 This is the 4th part of our series where we look at the differences between the 2003, 2006, & 2009 IRC's. In this one we are focusing primarily on the various specialty trades. While we slanted this series towards Alabama's new statewide code, one will quickly notice that they did very little tweaking, so if your state or local is considering making the switch, many of the same items apply. I must admit, knowing the in's & outs of the prior Mechanical, Plumbing, & Electrical codes is not one of my strong points, so I hopefully caught the biggest changes. If I happened to miss one, two, or… please let us know by leaving a comment down below.
Masonry:
I am not aware of too many modifications with the exception of the minimum thickness, parging, & lining requirements listed in Chapter 10 for fireplaces & chimneys. House framing may no longer be anchored to regular block foundations unless they are solidly grouted (R403.1). Additional area's to review are in chapter 4, 602.12 & sections 606 through 611.
Mechanical: HVAC, Gas, Venting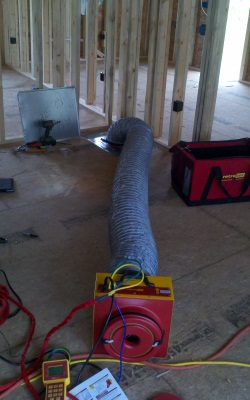 By far & away has the biggest change is to the HVAC requirements. Manual J, S, T & D are now listed & being checked by many of the inspectors I have heard from. Insulation is now required in many areas with the levels varying by the location. With that said the item that has most HVAC contractors worried is the mandatory duct leakage testing.
For years the code simply said to make things sustainably air tight which some did, and some didn't. With leakage rates averaging nearly 25% they decided to add testing. The good thing is it really isn't too hard to reach the target numbers & it helps level the playing field. The bad news is you either have to hire a third party verifier or spend approx. three grand to get a tester & training for each individual. For more on this, I recommend checking out our Duct Testing FAQ's & Tips for Sealing up the Ducts.
M1305 Appliance Access: tired of super cramped attic / crawl / closet access – well make sure you review this as installing equipment without the proper clearances is not allowed
M1308 Mechanical System Installation: just like the plumbers, be careful what you notch out or drill & don't forget to seal up all those penetrations as you go
M1411.5 Insulation of Refrigerant Piping: All piping & fittings shall be insulated to R4
M1411.6 Locking access port caps: are required for all refrigerant circuit access ports located outdoors
M1502 Clothes Dryer Exhaust: Per .2 it must be independent & convey moisture OUTSIDE (which does not mean the attic or crawl space as further clarified in .3) The duct must be at minimum 4" smooth metal, supported every 4' & not to exceed 35' (IRC reads 25' – Alabama modified to 35' your local AHJ may reduce it so be sure to check) which includes transition fittings (5' for a 90 / 2.5 per 45). (For a more in depth look at the dryer vent code)
A label with "effective" length must be permanently attached for any parts hidden in wall or floor cavities. If you do add a laundry room or space for one, per .6 you must run the duct for it & protective shields are now required if the duct is within 1.25" of the edge of the framing.
M1503 Range Hoods: Unless you install a ductless (bad idea) the units must be ducted outside (not the attic or crawl) & makeup air provided if the unit is capable of removing 400 CFM or more of air
M1507 Mechanical Ventilation: .2 "Exhaust air from bathrooms and toilet rooms shall not discharge into an attic, crawl space or other areas inside the building."
M1601.6 Independent Garage Systems: At no time may a unit supplying air to a living space supply air to or get return air from a garage.
M1602 Return air: Return air may only be taken from inside a house with the following being prohibited; closets, bathrooms, kitchens, garages, mechanical rooms, unconditioned attic, unconditioned crawl space, or where any atmospheric venting appliance maybe located (seriously folks – go direct vent)
G2415 Piping System Installation: REMINDER – Gas piping shall not penetrate building foundation walls at any point below grade, nor be installed in or through a ducted supply, return or exhaust, clothes chute, chimney or gas vent.
Plumbing:
P2503.6 Shower liner test: A 15 minute test is now required (even for "curbless" showers utilizing a temporary threshold) at a depth of 2"
P2603 Structural & Piping protection: At no time may anything be drilled, notched or altered in any manner unless it meets the applicable code section, is protected from damage & sealed up properly. Pipes passing through a foundation wall or footing must be sleeved with a pipe 2 sizes bigger & appropriately filled or caulked.
P2603.6 Freezing: As the entire state basically falls under the "winter time design temperature" no water, soil, or waste vent shall be installed outside, in an exterior wall, an attic or vented crawlspace without adequate provisions to prevent freezing & the pipes must be buried a minimum of 12" deep &/or 6" below the frost line (whichever is deeper)
P2708.3 & P2713.3 Bathtub, Showers, and whirlpool bathtub valves must be limited to a maximum temperature of 120°F
P2901.1 Potable water required: The use of "gray water," rain water, or other non-potable water is used, that distribution system shall be run through purple or otherwise specially marked piping & faucets
P2902.2 Protection of Potable Water Supply: Amen – all potable water sources must be protected from backflow which includes outdoor faucets, sinks, etc…
P2903 Water Supply System: Amazingly the flow rates (requiring larger pipes) has increased for many items, while everyone is looking at using water saving features which require less flow. Water hammer arrestors are no longer required when quick closing valves are used
P2904 Fire Sprinklers: Deleted in Alabama Code – a municipality may not require nor may they block the installation of fire sprinklers in a residential structure
Electrical:
Just like every other trade no drilling or notching maybe done that will affect the structure, adequate protection must be installed & holes sealed up. The biggest changes many will see is the AFCI, GFCI< & tamper resistant outlets now required. Also 50% of all light fixtures or bulbs must meet ENERGY STAR standards. The last item as brought out in our first part is if a permit is pulled the smoke detectors must be brought up to code & a carbon monoxide alarm installed if the garage is attached or there is a fuel burning appliance inside.
E3703 Required Branch Circuits:
Kitchen countertop – A minimum of 2 (20 amp) rated circuits which can include other related kitchen, pantry, dining room or refrigeration appliance – Word to the wise, the refrigerator should be on its own circuit
Laundry – 1 20 amp circuit for only receptacles in the laundry room
Single Bath only – 1 20 amp circuit which can power the lights & all outlets in the bath
Multiple baths – 1 20 amp circuit may be used for multiple baths (dependent on load calcs) but may not feed any other outlets or lights
No more than 15 devices on a 15 amp breaker or 20 on a 20 amp breaker – the remainder of circuits required is based on calculated load
E3901 Receptacle Outlets:
The outlets should never be installed in a face-up position on work surfaces or countertops.
Kitchens, Bedrooms, Den, Family Room, etc… is to have an outlet within 6' (so maximum spacing is every 12') of wall space
Kitchen Wall & islands – countertop area: any wall section larger than 12" shall have a an outlet with a maximum spacing in between them no greater than 4' – though no outlet should be placed behind a sink, range or oven.
Appliances – Kitchen, Laundry, etc… a receptacle for said appliance shall not be located no more than 6' away
Bathrooms – at least one outlet must be located within 3'of a lavatory edge
Laundry Room – at least one
Outdoors – at the front of the house, at the back & at each entrance &/or exit which includes balconies, decks, porches (20 SF & larger)
Hallways – at least one if it is 10 feet or longer
Garages & Unfinished basement or sections of unfinished basement – at least one per area
HVAC units – at least 1 shall be located within 25' of the unit at the same level (i.e. in an attic you must have one there, in a crawl space you must have one there)
E3902 Ground-Fault & Arc-Fault Circuit-Interrupter Protection
Ground Fault circuits are required for bathrooms, garages, accessory buildings, outdoor outlets, crawl space, unfinished basement, kitchen, laundry, utility, bar sink, electric radiant floors, and boathouse / boat hoist circuits
Arc-Fault circuits are required for all family rooms, dining rooms, living rooms, parlors, libraries, dens, bedrooms, sunrooms, recreation rooms, closets, hallways and similar rooms or areas
E4002.14 Tamper-resistant receptacles: In areas specified in E3901.1 (which is everywhere) all outlets shall be listed tamper-resistant. (Quick Tip – to make life easier on the Homeowners make sure you go around & test every single plug with a tester. Not only does this verify that everything was done properly but it loosens up the tamper resistant cover enough so that the outlet actually can be used without the homeowner wondering if you used the wrong type of outlets as they can't plug into them.
Swimming Pools:
This section has been deleted in Alabama as it falls under the Commercial code
Related Articles & Links: