In our last Wacky (semi) Wordless Wednesday piece we had three pictures where we looked at entryway & asked what issues you see, what might you have done differently, or does everything look good to you?  Well lets take a closer look at it…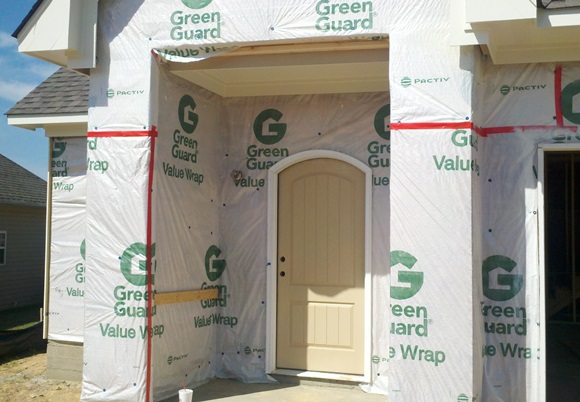 As I mentioned, I can easily see why the architect designed it this way, the catch became how did they finish off this detail? Well for that, let's take a look at the current framing layout.

Besides them using a header where one isn't required, there really isn't anything wrong with the framing. Ahhh, but what about those coming in behind them, like the insulator?

Well the red shows how this will probably be insulated & for most builders, they probably won't see anything wrong with this. Well, I hate to break this to them but per the codes… N1102.4 "Exterior thermal envelope insulation for framed walls is installed in substantial contact and continuous alignment with building envelope air barrier." (For more on this, check back on Friday)

Well the orange shows where the current (and required) air barrier walls are & thus where the insulation should be installed. Now assuming our poor insulator knows the code or the code official actually does a pre-insulation inspection… yeah, they are not in for a very fun time.
So how can one fix this, well the fix is actually quite easy which we show below, along with 2 additional ideas of mine.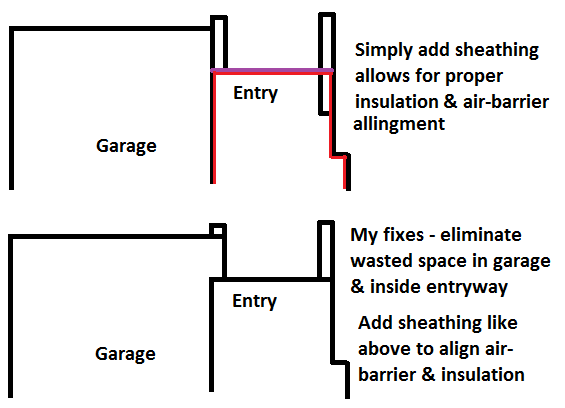 While the insulators can slide some sheathing in now (which is probably not in their quote), it would have been so much easier if it was added before they had framed out the thick wall portion. As for mine…
Sorry but I don't know how many people wouldn't love to have a few additional feet in their garage. Maybe a full size tool box might not fit in there, but I could easily see some shovels, rakes, etc… being hung there. As for the entry way, by trimming that wall back, that leaves a nice place for some sort of table or cupboard. While I still don't like the dead space, the original look is preserved, the thermal performance has been improved & the homeowners will probably enjoy those little touches.
Now for an unabashed sales pitch; with over 20 years in the field these are some of the issues we can help you avoid up front saving you the builder, not only time but money. This is included standard with our HERS Rating, ENERGY STAR & other program verifications, or as part of a stand-alone plan review.