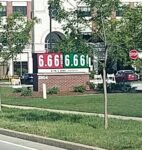 Welcome to part two of which option for a vehicle might be better for you – is it gas, electric, or maybe even diesel? In the last piece we looked at a metric to help truly compare fueling costs easily, which looks like an easy win for electric at this point in time. We then looked at charging times using "home" chargers, options available for those chargers & then dived a little into road trips. Depending on how you want to use your vehicle might have raised a few red flags for you or it might not have.
There is a lot of other facets to consider so let's dive in to help you decide and make the most informed decision on which vehicles power option is best for you. In this piece we will delve more into maintenance & commercial charging stations.
Maintenance:
For gas or diesel engines one has to change the oil but not on electric cars, so why discuss this right? Electric wins due to lower costs, right? Well not so fast. Yes, with gas cars you do have more maintenance to contend with, but cars are no longer looking at heading to the shop every 3,000 miles for an oil change Now many cars don't go back till they hit 6 to 10,000 miles which is a nice savings right there. This change in itself has killed off one of the main selling points for diesel engines in the past, less maintenance.
So yes, as a general rule for regularly scheduled maintenance – diesel is the most expensive now (especially when you add in DET fluid), followed by gas, and then electric. Confused on what maintenance you might need for an electric car – well it essentially is still just like a regular car minus the engine, so you do have some spots that need lubing, tires rotated, brakes taken care of, cabin air filters to be changed, fluids to be added, etc… Getting back to the tires, be forewarned that electric cars are heavier, so you do have increased wear on the tires, more braking, and some manufacturers may want your tires rotated more often.
12-volt Batteries / Systems:
Ever seen that picture of an "electric" car jump starting a Bronco? Yeah, first off do not try this as connecting to the main batteries would be a bad idea as the two types are very different. Second that actually is a picture of a Bronco jump starting an electric car. Wait, what & didn't you just state not to do that? I did, BUT electric cars also have a regular "car" battery that is used for the radio, starting it, and almost everything not related to sending power to the tires. The reason – why reinvent the wheel as we already have all these systems that are already built for 12-volt systems.
I can see the questions churning – so why do they say turn off XY&Z to improve range? Why can't I jump start another vehicle using that system? How do they charge it? Why can't my electric vehicle batteries jump start my regular battery? Many of these questions are manufacturer & even model specific along with changes coming at a rapid pace but in general:
Some manufacturers do have a red jump start button in case your 12-volt battery is dead, but most don't.
As many know when jumping a vehicle, you generally have the engine running so you don't kill yours – as an EV's doesn't charge (see below) you could drain yours & now you have 2 vehicles stuck.
Just like a regular vehicle, the batteries are charged off the "motor" which in the case of EV's includes the main batteries which will do a trickle charge based on need as it is powering the tires – so less range will be available.
Some maybe be fed off the regenerative braking system which has its own issues as many aren't based on actual braking but ongoing friction.
Some manufacturers are coming up with proprietary batteries for this with built in jumpers or are going with higher voltages being down stepped as necessary, so if that one goes you aren't running down to your nearest auto store to get a replacement battery.
EV Battery System:
This one is actually the EV cars best & yet worst feature as you are looking at least $10,000 plus worth of repairs when they start to go. Granted most people are getting 10+ years out of them, but who wants a car that will only last 10 years. No big deal I plan on getting a new car every 3 years so I won't get nailed with that, so I am good. Somewhat true but the batteries will be depreciated for that use so you will help offset some of it. The other catch is "recycling" / repurposing older ones is not mainstream yet so don't get me started on all the purported environmental savings that going electric will get you are essentially wiped out if not heading the other direction with just this issue.
Commercial Charging Stations:

Many higher producing Level systems (much less Level 3 systems) are limited to commercial settings. The chart on the left shows one reason why as many houses, might be able to install a 40-amp breaker, but going larger would require some major upgrades. FYI, that 40-amp breaker size is the last one on the chart we showed before for charging times in the past article which is great for 150 miles or less but longer trips or times between fill ups, not so good especially if you want to fill up in less than 8 hours.
So that brings us to commercial settings where they have more power available & in fact have something else called 3-phase. Essentially that can allow for one to charge faster with some systems being able to speed charge your battery in 20 to 30 minutes ASSUMING your car is set up for it. A couple of downsides – faster charging is harder on the batteries. Cost of charging can easily be double if not more. The electric company &/or the "charger" itself can also limit the amount of power available due to high demand or because of time of use charges. This also doesn't include the issue that the speed charging portion can only get your battery up to 80% before it has to slow down meaning it will take at least an hour if not more to fully charge your batteries.

Commercial can cost more – how, I know their rates are cheaper? I hear this all the time, shoot their rates are only 6¢ compared to my 9¢. As we pointed out in our piece in calculating your true electric "rate." That 9¢ number is higher than that which is probably closer to 12¢ at minimum. Well, the same applies to commercial also but then they also have one other big item called a Demand Charge which can easily double that.

A demand charge is simply based off – what is the maximum amount of power (kW) a utility needs to deliver during the busiest 15-minute period? For anyone that has worked in factories / seen where they have staggered start times for turning equipment on – this is the real reason. You walk into a building & just turn everything on at once you are looking at a huge demand charge – you spread things out, you have said thousands (some hundreds of thousands) dollars a year. Can you imagine what happens to this now when everyone pulls up at 8, pops their car on the chargers & then walks inside & turns everything on including the AC you turned off to "save" money???

Depending on utilities – you can also have peak-time usage fees, power-factor multipliers & the list goes on so rarely is true commercial "cheaper" than residential. No worries – in the haste to electrify everything, many utilities are looking at some of these items for the residential arena – especially as houses are now looking at either needing 2 services or jumping up to 3-phase.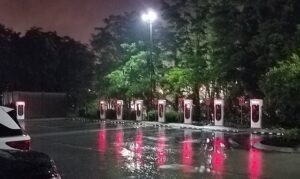 There are also not enough of them except maybe in small pocket areas & yes they might not always be working. Even if there are enough now, how about in the next year when the amount of cars doubles? This is a picture I took a few years back at a hotel I was staying at & have seen similar sights up to a year ago – Tesla leading the way by putting in chargers everywhere as they knew this would be an issue – yep not a car in site. Now, good luck in most of these places as "fleets" have taken over and simply park their cars there overnight.
This brings us to another big issue is those charging stations only serve Tesla's – not any other car. Oh & those above are not "super chargers" – there are only 1,300 of them across the US at the moment. Don't own a Tesla well you have to go to a "generic" charging station which may be able to charge your car. Wait – may? Well unfortunately there is no "national standard" out yet on charging (not supposed to be released until mid-May of 2022) so you may actually need an adapter or have to charge at a slower speed. Fortunately, most other manufacturers stuck with a more generic system instead of going hey we will be the next Apple so you should be good.
Commercial Charging at Home?
So you want a second service, or maybe you are building your dream all-electric home & can get 3-phase power install – hmm can I get a commercial style system at my house? The answer is yes BUT if you are speed charging, it probably won't be in your garage & if it is the codes are going to require a few things. Hmm like – how about exhaust fans to remove vapors? Yep that is required now for backup "battery" systems in the latest NEC due to vapors. Yes you will have to follow the NEC not the IRC as the IRC is only for typical "new construction" and points you to the NEC for items that surpass it's scope.
Coming Up:
First, I hope this has helped clear up some general questions you might have had on Charging & Maintenance. In our next piece we should be able to help tie up some loose ends like using your car as a backup generator / battery, finally get into diesels (SUV's, Trucks), look at towing, and delve into the future a little. If you have any comments or questions, we would love to hear from you below.  Thanks