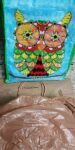 #ElectrifyEverything or should I rephrase it as; Gas or Electric is fast becoming the new Paper or Plastic it seems… I couldn't help but shake my head at the newest headline on one of the forums I frequent "The problem with Gas Stoves" with a single simple minded comment with a link to a piece entitled "Your Gas Stove Is Bad for You and the Planet — To help solve the climate crisis, we need to electrify everything." Seriously? Even funnier was someone on the radio trying to say how the taste of food is impacted by the fuel choice & went bleh it was cooked with gas… I guess they never eat out & only use charcoal or wood chips.
Now don't get me wrong there are some strong points behind the "Electrify Everything" movement which is actually being spearheaded by a good friend of mine – Nate Adams of Energy Smart of Ohio. Granted there are many other people involved but he is fast becoming the face of the movement & the link above gives a good summation of it which was done by him (I suggest if you don't know about it, check out the link first). The question though is, is this really for you? Needless to say there is a lot into it so lets start with some of the preposterous things being bandied about & then get down to some high level arguments for & against…
Stop Climate Change:
Let me simply say – not a chance & don't waste your breath trying to sell it this way. But… No – it doesn't fly except for a very small subset of the population.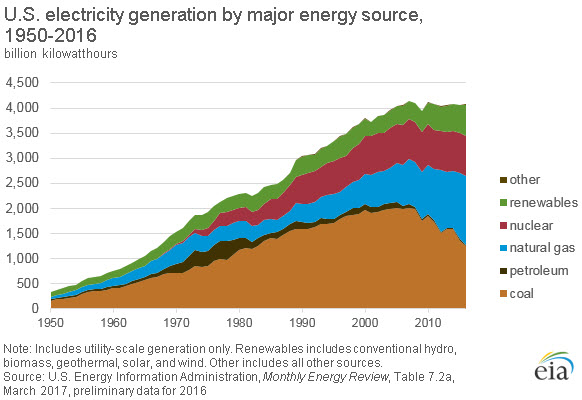 I don't care what appliance you are using, in most areas of the country you are burning some sort of fossil fuel to produce the heat &/or electricity needed to power it. Swap out your gas water heater for an electric one – guess what your power is still probably coming from some sort of fossil fuel & during periods of high loads you are almost guaranteed it is coming from either Natural Gas or Coal.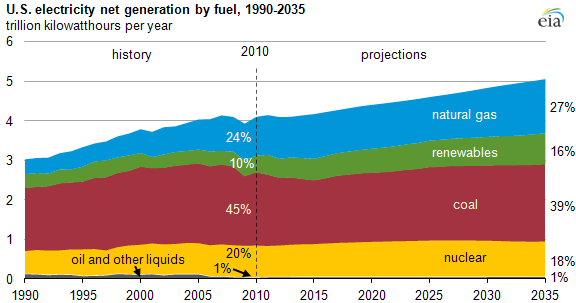 Think the future looks brighter? Personally the chart above is wrong – I truly expect coal to be just under 20% by 2035 with the remainder going 5% more for renewables with the other 15% going to Natural Gas with maybe some nuclear.
No more Gas Line Explosions:
I can't recall who posted a pic once of a Natural Gas Pipeline explosion that destroyed a house and then they tied it into the Electrify This movement & insinuated that this would have prevented / curbed it. Well the truth of the matter is that by switching out your gas range to an induction one would not help prevent this in the slightest & could actually help make it happen more often. Why – well electricity being produced from said gas requires a lot more gas under higher pressure than someone heating water or a turkey in their oven. The biggest issue, our nations infrastructure is getting worse & needs to be updated to handle the higher demands being placed on it.
Electric is more Efficient:
Yeah, no it isn't… For example the 4500 or so KWH of electricity I use a year actually is only about a third of the actual electricity produced just to deliver it. Essentially 9000 KWH are lost in transmission / distribution, net generating losses (i.e. electricity required to produce electricity – fuel handling equipment, water pumps, fans, pollution control equipment…), etc… So that 220% efficient Heat pump (2.2) water heater is only a .73 efficient or less than a typical gas water heater…
But wait, doesn't that also apply to Propane or Natural Gas being delivered to the house? Well in some ways you could go down that rabbit hole, but… the same would also apply to the utilities also; whether it is aspen trees being cut into chips, coal being mined & delivered, or natural gas / propane being delivered to the generating station. If you want to go with a standard – check out the kBtu/SF method.
Back to Reality – Which is better?
The answer like many is, it depends. What are your goals or are you trying to accomplish? Do you just want to reduce costs, cut the plug, eliminate the gas meter, go Net Zero, or… Until you can truly answer that, no one can truly say, hey, this is the best solution for you. With that, here are some points to ponder.
Reducing usage is always best:
No I am not talking about having to wear sweaters during the winter inside (though there is nothing wrong with that if you like to) but rather increasing the efficiency of the system or unit, reducing issues that impact it, etc… Way to often I see people blow tens of thousands of dollars on green bling (oversized solar, geo thermal) & they still aren't comfortable.
Reduced House Values:
This one will pop up if you are talking to realtors – It is just a fact, an electric only house will generally sell for less all things being equal. With that said if an entire community is all electric the argument is mute to some extent. Yes it does depend on what surrounding communities are around. I don't see it as a real issue as electric only can work in most of the country though that leads us to…
Backup power:
Many people need or want some sort of backup power – storms come through, etc…. If you do electrify everything & kill the gas meter you have one big issue, how do you get said backup power? Battery Power & systems are making some big jumps but lets face it, unless you are talking about power being restored within an hour (or maybe a few) for many of these wall systems, you are toast after that.
Even for those who are all solar, they generally are in for a rude awakening as their systems go down if the grid goes down. Saving grace if your community is all electric, you just might be able to put a backup generator in with Propane.  Ok maybe I will keep my gas meter for just this – pretty expensive backup with the monthly fees for just having a meter.
Electric Heat vs Gas Furnace:
Yes folks, they now have heat pumps that can work in cold climates. That is one item Nate uses in his area (Ohio) to Electrify Everything. Many builders are loath to try this in many Northern climates and even more temperate ones because they are worried about them producing enough heat. Sorry but that wouldn't be why I would be worried – I would be more worried about people not utilizing them properly & utilizing the emergency or resistance heat which would send their bills sky rocketing. Personally if I was going all electric or even staying on gas I would go hydronic. As for those that have strip heat only – change it out as there is nothing efficient about that at all.
As for comfort – folks that comes down to a host of factors; proper sizing, proper installation, proper insulation, how you use it, etc… If your "bonus" room is to cold during the winter & to hot during the summer, swapping out systems won't help. If one room hardly gets any airflow, a new system won't help. If your furnace / AC is oversized, sure a new heat pump might help assuming it gets sized properly.
Hot Water Heaters:
Believe it or not but the biggest "burner" in new construction homes is the water heater. There are generally three arguments for Electrify; lower operating cost for Heat Pump style systems, carbon monoxide is a non issue, & "locational flexibility" due to no flue.
Lower Operating Cost – first notice that they talk about "Heat Pump style" systems not regular ones or lord forbid on demand (with some requiring 60 amp or larger breakers). That can be true depending on how you use it – assuming you have plenty of time for it to recover because if you don't that heat pump, turns into a traditional electric water heater. What's best for you – well that depends on a host of factors & maybe I will finally get to that article….
Carbon Monoxide – hands down it is electric all the way on this though direct vent eliminates that concern for the most part
"Locational Flexibility" – umm have you seen the size of these behemoths that can easily be 7′ tall & wider than any traditional one? Look if you are doing new construction, sure this can be a selling point but if you ae stuck with an existing place you can be in trouble. Now if you are designing from scratch – use your head on the building layout please.
Dryers:
Interestingly I never see or hear them talk about dryers though it hasn't been till recently that ENERGY STAR started certifying them. Gas is still generally cheaper to run but generally costs more to buy, while electric is just the opposite and generally requires a 240 outlet… With that they do have ventless systems & even heat pump styles now, but if you have a lot of laundry those last two might not be for you
Cooktops & Ovens:
Gas is evil, it produces Carbon Monoxide seems to be almost all the studies lately have been focusing on. Ok also ventilation thankfully. The most interesting thing is that I haven't seen many studies on the other byproducts of cooking like fine particulates that are created based on the type of unit. Why is this interesting, well because the electric ones have big issues in this arena (yes even induction systems) due to the direct surface contact of the pan to the heat source.
Basically if you have gas in the house you would be silly to go with an electric oven. As for a separate cooktop I would probably opt for Induction myself. The biggest thing is make sure you use your kitchen hood (that needs to vent outside) when cooking. For regular burners (electric or gas) use the one that is right for the pot. Make sure all your pots, pas, etc… are clean especially the bottoms of them.
Does it make sense to go partway?
In all reality it makes no sense to say have a gas furnace and change everything else over to electric as you will be paying the gas company no matter what, every month. Now if this is part of a master plan or you are keeping the gas also for backup power, than sure it can make sense. Do you like cooking with electric than by all means go for it. Many people will buy an electric dryer because it is cheaper & that's fine – just make sure you know it is probably going to cost you more in the long run.
Last thoughts:
In many ways, the right answer isn't always black & white – relax, don't believe all the hype and make your own informed decision.