As many know, this site was created by & is supported solely by SLS Construction & Building Solutions LLC (SLSCBS) as a free resource. Besides SLSCBS focusing on code compliance testing & consulting, we also help homeowners & building owners solve energy, comfort & health problems they may encounter.
One might think with all the updated codes over the years, increased inspections (yes this one has passed all the rough in inspections) that things might slow down on getting calls from new homeowners… Yeah, that would be a no as these three pics from just one house shows… Just as an FYI – this house was moved from another location & while some areas might treat it as a remodel, the local AHJ is treating it as new construction (though allowing for cavity filling only on insulation).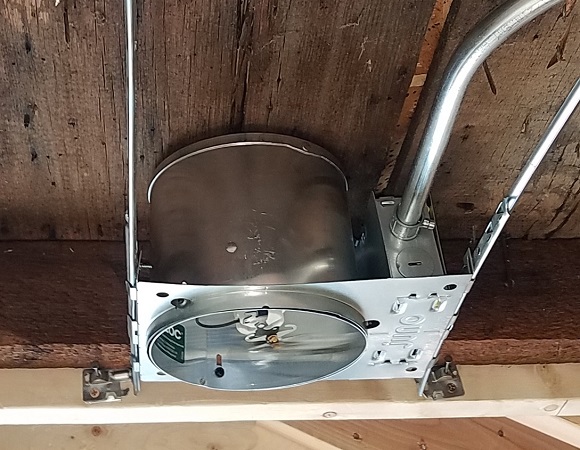 Ahh my favorite, recessed lights. Granted if this was between the first & second floor it would be ok (especially if used with LED lighting). How about against a sloped roofs sheathing? Yep, that is where it is and I can only imagine how many problems they will face with ice dams & condensation.
The other catch, a lot of this will be lucky to get R15 to R19 (as they are going with batts) instead of the R49 required by code for new construction (minimal is R38 for up to 500 SF for "hot roof" style.) Remodeling – technically you have to fill the bay, but how do you fill the bay when you also have to install baffles. But wait it gets better…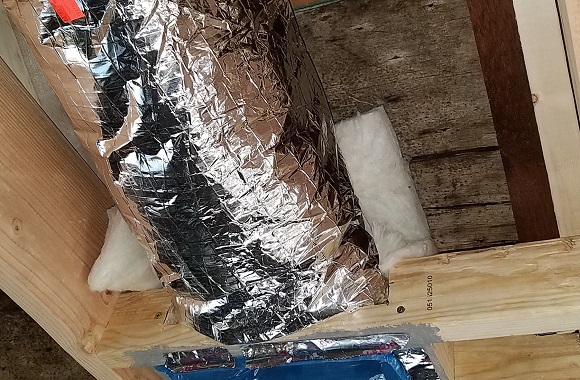 I was there for a duct leakage test & this duct boot is also right up against the sheathing… Ahh at least it has some insulation between the transition piece & the sheathing. The reason why it was placed so close to the sheathing – it was as close as they could get to the windows… Yeah I think we will have to do a piece on that soon – no folks ducts don't need to be placed next to the windows.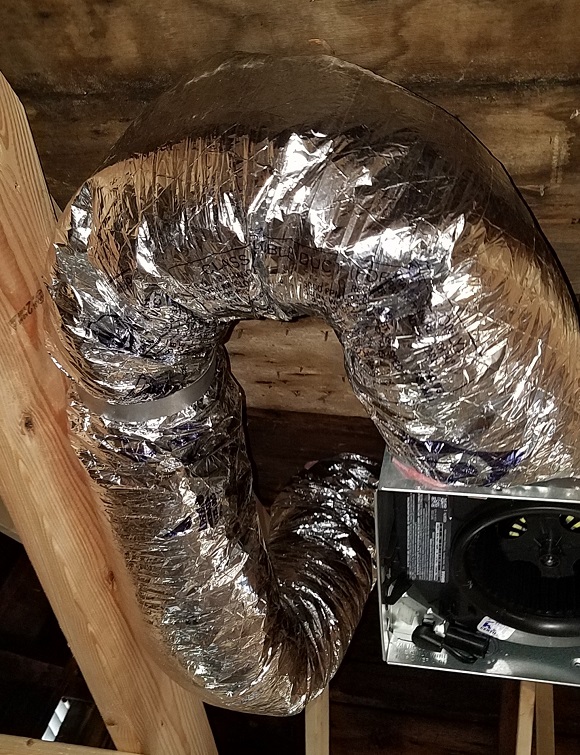 Ahh the beloved bathroom exhaust vent; nice looking install but 3 elbows, part of the ducting right next to the sheathing &… Seriously why not rotate the fan a 180 degrees – now all you need is one 45 degree angle & the only worrisome item would be how close the fan is to the sheathing. Needless to say I did talk to the builder about it, we will just have to see what changes they make. If not at least I will know what a host of the problems are when called. Ahh, job security