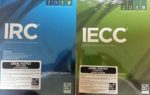 January 10th: While initial public commentary period should have started on the 1st, it has been pushed back to get approval on the form to be used (link below & approved.) An official notice should be coming out in the next week (Official Page & Form valid to March 31st) and I expect to see the finalized one as either a PDF fillable or Word based document. The agenda for today was….
Roll Call & Introduction of Guests (ICC)
Approval of December 4, 2017 Meeting Minutes (approved)
Summary of Changes Between the 2015 and 2018 IECC (See Below)
Technical Support Update from Illinois EPA (they took over training &… see past post)

From meeting, an agreement has been signed & training / resources will be located at https://smartenergy.illinois.edu/

Revised Amendment Proposal Form Public Code Change Proposal Form
Public Comment
Other Issues
Next Meeting (not stated when, but the commercial & residential sub-committees will probably meet before hand to go over incoming proposals)
Adjournment (11:50)
Location: CDB Board Room, Stratton Building, Springfield IL & CDB Conference Room, Suite 14-600, James R. Thompson Center, Chicago IL — also dial in
Item 3 – Summary of Changes:
A lot of the items below are taken verbatim from an Interoffice memo sent out but were shortened for brevity & any commentary by me is (bolded).
When applied to building code changes, the term "significant" is both subjective, and relevant to the involved parties, depending on their use of the code or intentions. The changes identified here are considered significant due to:

Energy Savings
New Technology and/or Costly Requirements
Changes to Compliance Methods
Reorganization or Modifications

Commercial Energy Code Changes

Commercial code changes considered by ICC staff to be most relevant to the State of Illinois adoption process include:

Reduced SHGC in Illinois Climate Zones
Hotel Key Cards or Networked Controls
Mechanical and Lighting Control Configurations
Part Load Controls
Open Office Lighting Controls
Luminaire Lighting Controls
Efficiency Packages
Interior and Exterior Lighting Levels
Fixes and Reorganizations
Climate Zones (ASHRAE changed their map somewhat so for those going that route in certain counties right on the line…)

Reduced SHGC in Illinois Climate Zones

Within the Envelope section, Table C402.4 Building Envelope Fenestration Maximum U-Factor And SHGC Requirements was modified for more stringent (lower) SHGC in Illinois climate zones.

Hotel Individual or Networked Controls

Section C403.7.6 – Automatic control of HVAC systems in guestrooms – includes options of local controls or Networked guestroom controls (new definition), In Group R-1 buildings containing more than 50 guestrooms….C403.7.6.1 Temperature setpoint controls. …C403.7.6.2 Ventilation controls. Exception: not precluded from having an automatic daily pre-occupancy purge cycle. (Heh, why do I see people requesting an extra key… yep if you want the TV on, AC to work or… your key card needs to be inserted & left in )

Configured Controls

Throughout Mechanical and Lighting Control Requirements the phrase "capable of" was changed to "configured". The overall intent of this code change proposal was to increase the likelihood that energy savings intended by the energy code will be realized. Much of the savings from energy codes is dependent on the presence and functionality of building controls for HVAC and lighting systems. Control equipment can be provided that could be said to be capable of achieving the desired result even though the required software, hardware, and programming is not present and the setpoint is not correct or the programming is not even complete. (Should not have been an issue if required commissioning is/was done)

Part Load Controls

Section C403.4.4 Part Load Controls. This section expanded the application of variable speed drives in hydronic systems greater than or equal to 300,000 Btu/h (146.5 kW) in design output capacity supplying heated or chilled water to comfort conditioning systems.

As stated in the code change proposal, reduces the threshold where variable flow and variable speed drives (VSD) are required for pumping systems. The pump threshold is reduced from 10 to 2 hp for continuous operation and time schedule controlled pumps. Pumps that have operation controlled by direct digital control based on zone demand result in a varied threshold based on climate zone. Requirements for heating pump VSDs are added.

Occupant Sensors – Open Office

Modifications to Sections C405.2.1. Occupant sensor controls and C4052.1.1 establish the application of lighting controls to open plan offices. New language in Section C405.2.1.3 defines the application, applying to function in open office plans > 300 ft2 which are to be configured to control zones < 600 ft2. Controls are based on occupancy of both individual control zones and entire office area.

Luminaire Level Lighting Controls

Section C405.2 Lighting Controls was modified to specifically identify Luminaire Level Lighting Controls. It now requires lighting systems be provided with controls that comply with one of the following:

Lighting controls as specified in Sections C405.2.1, C405.2.2, C405.2.3, C405.2.4, and C405.2.5. (Previous requirement)
Luminaire light level controls (LLLC) and lighting controls as specified in Sections C405.2.4, and C405.2.5. adjustments, and wireless zoning configurations, for each control strategy.

The language further provides specifications for the application… The purpose of this code change proposal is to acknowledge lighting control technology that meets the intent of the provisions of the IECC if the control requirements have specific capabilities. Luminaire level lighting control (LLLC) refers to a controls solution where each luminaire in a space has independence from every other and can therefore maximize incremental control within very small areas.

Interior Lighting Systems

Table C405.3.2(1) was modified throughout to reduce watts/ft2. Sample changes are included below.

Exterior Lighting Systems

Table C405.5.1(2) Individual Lighting Power Allowance for Building Exteriors, was modified to reduce watts/ft2. Changes included:

Base site allowance for all zones
Uncovered parking areas
Building grounds
Building entrances and exits
Sales canopies
Outdoor sales
Non-tradeable surfaces

Additional Options Packages

Section C406 additional efficiency package options was modified to include two new efficiency options –

C406.8 Enhanced envelope performance. The total UA of the building thermal envelope as designed shall be not less than 15 percent below the total UA of the building thermal envelope in accordance with Section C402.1.5. and

C406.9 Reduced air infiltration. The measured air-leakage rate of the building envelope shall not exceed 0.25 cfm/ft2…

Reorganizing of Mechanical Section

There was a complete restructuring of HVAC provisions, grouping categories of provisions together

Corrections

Three important changes corrected the code to reflect original intentions.

C403.7.1 Demand Control Ventilation revised to be triggered at threshold of 25 people/1000ft2 or greater, rather than 25 people/1000ft2
C403.5 Economizers (Prescriptive) …corrected 2015 C403.3(1) exception 4 reference to an unintended number
C503.1 General, Exception 7 – 50% threshold for luminaire replacement triggering requirements, conflicted with C503.6 10% threshold

Appendix CA Solar-Ready Zone-Commercial

This appendix includes provisions for new construction where solar-ready provisions are required

Minimum roof area for solar
Roof loads and documentation
Interconnection pathway
Electrical service reserved space
Construction documentation certificate
Residential Energy Code Changes
Envelope glazing U-factors

Table R402.1.2 Insulation and Fenestration Requirements by Component was modified to reduce (increase stringency) of U-factors in Illinois climate zones. (For CZ 4 – from .35 to .32 & for CZ 5 – from .32 to .30)

Standard RESNET/ICC 380 Referenced for Envelope Testing

R402.4.1.2 Testing was modified to (include) reference Standard RESNET/ICC380… BS4D: Envelope Leakage Testing 101

Parameters for Ductwork Buried in Insulation

R403.3.6.1 Effective R-value of deeply buried ducts was added to provide a means to account for ducts buried in insulation. The new language states in part –

Where supply and return air ducts are partially or completely buried in ceiling insulation, such ducts shall comply with all of the following:

The supply and return ducts shall have an insulation R-value not less than R-8.
At all points along each duct, the sum of the ceiling insulation R-value against and above the top of the duct, and against and below the bottom of the duct, shall be not less than R-19, excluding the R-value of the duct insulation.

R403.3.6.1 Effective R-value of deeply buried ducts. Where using a simulated energy performance analysis, sections of ducts that are: installed in accordance with Section R403.3.6; located directly on, or within 5.5 inches (140 mm) of the ceiling; surrounded with blown-in attic insulation having an R-value of R-30 or greater and located such that the top of the duct is not less than 3.5 inches (89 mm) below the top of the insulation, shall be considered as having an effective duct insulation R-value of R-25.

R403.3.7 Ducts located in conditioned space provides further parameters for ducts to be considered in conditioned space. (This one had the most head scratching on just how do we inspect this so there will probably be more conversations on this – one reason why this was added & not brought up was due to some inspectors saying the ductwork had to be on or above the insulation)

High Efficacy Lighting

R404.1 Lighting equipment (Mandatory) was revised to require that not less than 90 percent of the permanently installed lighting fixtures contain only high-efficacy lamps. (Was 75% before & with LEDS being so cheap now many builders are at 100% – please note it is fixture not bulb so a chandelier with a 100 bulbs only counts as 1)

Appendix RA

Elimination of the appendix eliminated procedures for worst case testing of atmospheric venting systems.

ERI Approach and ANSI/RESNET/ICC 301-2014

R406.3 Energy Rating Index was revised to reference RESNET/ICC 301 as a basis for the ERI approach. The new standard provides a:

Standard approach
Gives credit for on-site power production
Defines renewables

Solar energy
Wind energy
Biomass

In addition, Table R406.4 established new (less stringent) ERI Scores and established

2015 "backstop" if taking credit for renewables (Based on 402.1.2 & 1.4)
2009 "backstop" if not taking credit for renewables (This has been there, it is not new)
Insulation Code Changes:
But what was required in 2009 or 2015…. Well here is a shot of the insulation & fenestration changes from 2006 to now in 2018.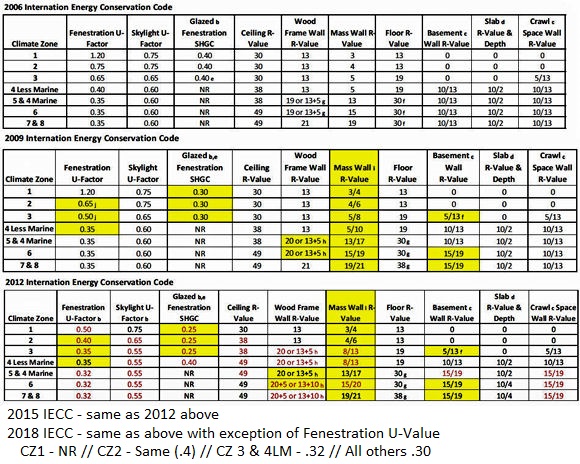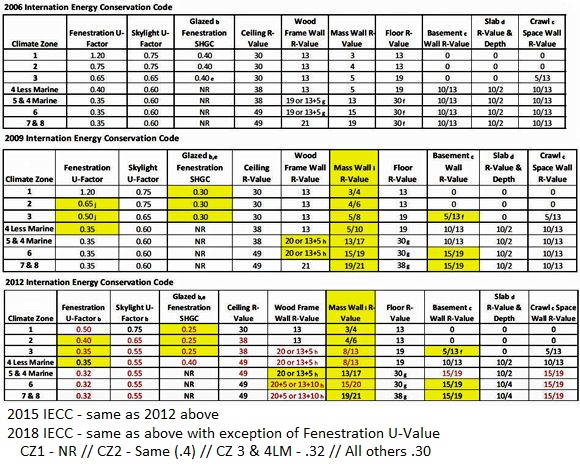 The first part is the 2006 (&03 if memory serves me correctly) levels that were required. The middle one is the changes made in 2009 highlighted in yellow. The bottom one leaves the highlights in & notes changes in red for the 2012 code cycle. Interestingly the 2015 is exactly the same along with the 2018 cycle minus the U-Factor changes noted. So for those of us up here in CZ5 (Chicago) the only change between 2009 & now is the U-Factor, Basement & Crawl Space insulation levels. For those in CZ4 (Springfield) you have the fenestration changes & above grade wall insulation.