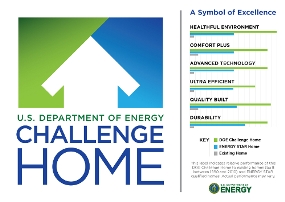 Recently the NAHB Research Center (now known as Home Innovation Research Labs) in conjunction with DOE's Challenge America Program released a new paper touting three new "Advanced Framing Techniques". As you may recall I have pointed out multiple issues with OVE / Advanced Framing & actually promote using OFT or Optimized Framing Techniques. With that, I was interested in what these new techniques were & how well they might work in the real world. I also got to say it is nice seeing the Research Center doing what they are meant to do once again – find workable solutions for builders to not only meet codes but also build better & more efficient homes more affordably.
Creating a continuous path for drywall on exterior walls:
The first technique involves a new way of framing interior walls. Instead of promoting the use of drywall clips, using a T Block, or ladders they are pushing for one to hold the interior wall partition away from the exterior framing by an inch. In order to provide the structural stability needed for the interior wall they would get tied together with a flat plate connector.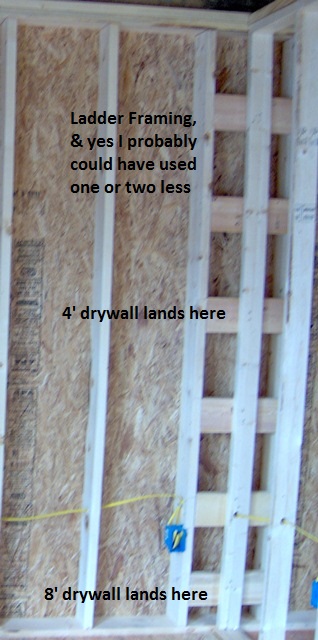 What this allows for is the drywall contractor to "slide" full sheets behind the partition walls to help create a continuous interior air-barrier. At first blush this looks & sounds like a really good idea which many of us have considered before. The catch – numerous walls & small spaces would make this very hard to pull off but still very doable. The biggest catch is shown in this picture where we used the ladder technique – yep that would be electrical & in some cases plumbing runs. Ahh but cant you drill in from above, below or any combination – sure you can, but you want to make sure that everyone knows that is what is supposed to happen & make sure you are not creating any other issues by doing so.
 Eliminate 1st Floor Headers: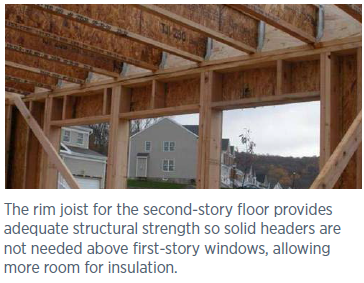 The second method is for 2 story houses only. Per the Research Centers testing, they have deduced that headers are not required for the first floor as the rim-joist & "normal king & jack studs" provides enough load carrying abilities. Granted I am not a licensed engineer, but I would definitely be checking with one before I tried this trick.
I also have to say I have a few quick questions based off this photo as they appear to have used a doubled up rim joist using solid wood (not the more traditional single OSB rim joist band which is more commonly used.) It also appears that they doubled up on the king studs based on the opening size. You may also notice that they mentioned using both normal king & "jack" studs which as many proponents of OFT would almost consider sacrilegious.
Continuous Sheathing for Raised Heel Trusses: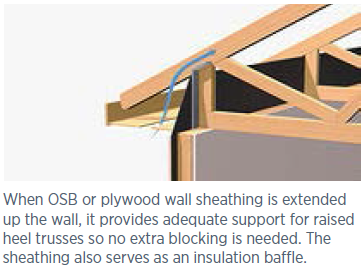 Ok, seriously? While I am a big proponent of using continuous sheathing, calling that new, much less a framing technique is a major stretch. With that it is good to see them supporting & pushing out to their members a code tested & required measure. For more on how to do this: Common Sense Building: Exterior Wall Sheathing 101
Ahh, but you said 4?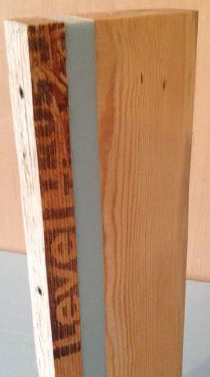 Why yes I did & this one came from a gentleman in Rhode Island who asked a what is it question. In his case, he was talking about a home-made version (albeit from a lumberyard) of SIL or Structurally Insulated Lumber. Unlike the one pictured, his consisted of a 2×4, 2″ foam, & 1/2″ OSB all screwed together. While I wouldn't have an issue per se using one that is properly designed, I  wouldn't waste the money or time on it. One would achieve better results with a conventionally framed wall, sheathed with OSB, & then wrapped with foam. To top it off a properly done rain screen detail would give you an almost bullet proof system.