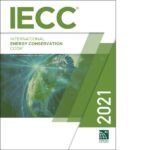 Here we go again… the 2021 IECC has officially been published (February 2021) so the State of Illinois is now under the clock to adopt the latest IECC per the EEB Act. It is supposed to reviewed & adopted within 1 year of publication & take effect within 6 months of adoption. The tentative timeline as it stands now is:
June 2021 – Convene initial review and analysis (July 1st – Kickoff meeting happened)
July 15 to August 15, 2021 – Commercial and Residential amendments acceptance period open (Proposal Procedures) (Official Page: The update cycle for the 2021 Illinois Energy Conservation Code has begun. – Announcements in 2021)
August – September 2021 – Subcommittee review of Commercial and Residential amendments
October 2021 – Review and compilation of amendments and commentary
November 2021 – Council votes on amendments/submittal to CDB
December 2021 – CDB Board votes on adoption/submittal to Governor's office for review
January 2022 – Council gets final submittal & JCAR process begins (45-day Public Comment Period)
February/Marcy 2022 – CDB staff review first comment period submittals
May 2022 – Rules Finalized with code taking effect June 1, 2022 (August 2022 latest by Act)
Major Issues: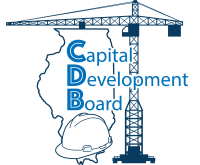 For anyone who has followed this process before knows that the initial timeline generally is optimistic (2018, 2015). Besides the normal delays, political infighting, etc… I expect quite a few other issues to pop up. The first besides the number of changes, is what we have covered before and that's the NAHB is seeing red about this last code cycle. One of the biggest for the "we don't want change" crowd will be with the insulation amounts going up and requiring exterior insulation now which is something many builders and architects have managed to avoid in this area. Think this is an issue well the biggest issue might be with the code book itself…
As covered before, the IRC, IBC, & of course the IECC publication date was pushed back due to all the fighting going on over the voting. The codes are normally released 3 months or more before the year listed on them, but this version took an additional 5 months. So, you would think that all this additional time would mean that the code book would be pretty accurate… Unfortunately, that would be a no, especially as they completely screwed up the insulation table along with numerous other items. There are 32 pages of errata that need to be factored in as you look over the PDF or hardcopy version you might have.
Side issue with that – testing & test prep is written based off the 1st edition printing so now we will have training & testing being done on very bad data. i.e. no changes to the residential insulation requirement for walls. The ICC is hard at work on getting the 2nd edition out to print but for those that already have pdf or hard copies, they will have to make sure they check the errata. (Errata for all codes) For those with PDF's – you should get an updated version (if you ask) but for those with hard copies…
Sorry Folks BUT…
As many also know the ICC has pulled the IECC out from the normal consensus-based structure used for code development & changed it to a standards-based development. In most cases those handled via the standards-based are not listed as "code" which would mean that the government mandated ARRA "you must adopt" would go bye, bye, bye….
Yeah, that would be a no as the IECC will continue to be known as the IECC so the mandate continues. The other "bad" thing for most builders is that a standard can only be improved on and not downgraded. Ok but when has the code… first one that comes to mind is the ERI scope – in 2012 it was X, in 2015 it was loosened up which would not have been allowed. Another example is duct testing is now required for all systems (yes even if all inside conditioned space). Guess what you can't strip that out or loosen up the percentage as it is now locked in.
Quick Refresher: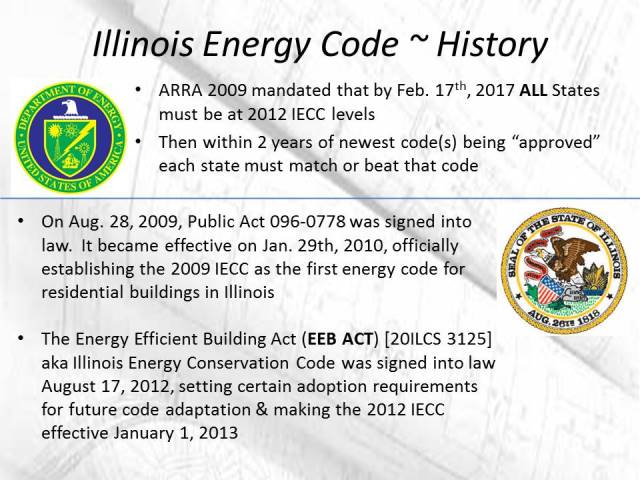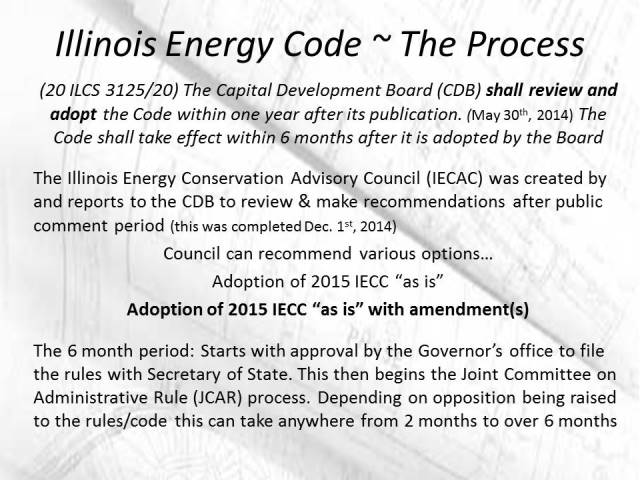 Buckle your belts:
Buckle your belts, I got a feeling this will be an interesting one & make sure you check back for updates. For those interested in not reading about but getting involved you can visit CDB's website & send an email to Lisa Hennigh (at bottom of page)